MH17 Flight Route Within Zone Of Ukraine's Missile Systems: Russian Defense Ministry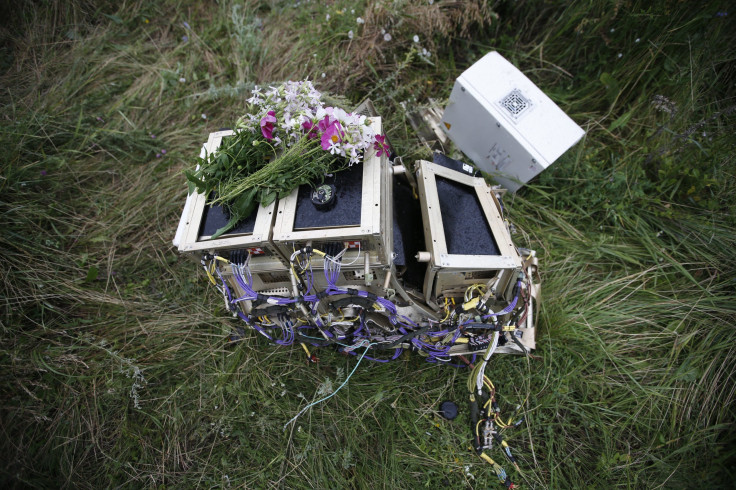 A section of the flight route and crash site of Malaysia Airlines Flight MH17, which crashed Thursday killing all 298 people on board, was within firing range of Ukraine's missile systems, the Russian Defense Ministry's press service told ITAR-TASS, a local news agency, on Friday.
The ministry's press service reportedly said that the Boeing 777-200 passenger airliner, which was flying at an altitude of about 33,000 feet, on its way from Amsterdam to Kuala Lumpur, was within the operational area of two Ukrainian batteries of S-200 long-range air-defense missile systems and three batteries of Buk-M1 medium-range air-defense missile systems.
"In the course of July 17 Russian radio-technical facilities have fixed operation of a radar station 9s18 Kupol of air defense missile system Buk-M1 battery deployed near the settlement of Styla (19 miles south of the eastern Ukrainian city of Donetsk)," Russia's Defense Ministry said, adding that the Buk-M1 air-defense system has technical features that enable it to communicate with other military units equipped with the system.
"Thus, the launch of the missiles could also be made from all the squadrons, located in the Avdeyevka settlement (5 km north of Donetsk) or in Gruzsko-Zaryanskoye (15 km east of Donetsk)," the ministry reportedly said, adding that its army and air force were not operating near the Donetsk region on Thursday.
"This information is fully confirmed by the air data recorders," the ministry added, according to ITAR-TASS.
Meanwhile, Alexander Neradko, head of Rosaviatsia, Russia's federal air transportation agency, said, according to Interfax, a Russian news agency, that the jetliner had been guided by Ukrainian air-traffic controllers.
"The crew did not make contact with an air traffic controller in Rostov center. When the plane disappeared from the radar screen it was the responsibility of an air traffic controller of the Ukrainian Dnipropetrovsk air traffic control center, and Ukraine was in charge of air traffic safety in that area," he reportedly said.
According to BBC, Ukraine's President Petro Poroshenko has called the crash of the Malaysian airliner "an act of terrorism" but pro-Moscow rebel leaders have reportedly denied any involvement. U.S. intelligence authorities said the plane was downed by a surface-to-air missile but could not yet confirm who had fired it.
Australian Prime Minister Tony Abbott on Thursday blamed Russia for the tragedy, while Russian President Vladimir Putin blamed the Ukraine government.
"The country in whose airspace this happened bears responsibility for it," Putin said, according to BBC.
© Copyright IBTimes 2023. All rights reserved.
FOLLOW MORE IBT NEWS ON THE BELOW CHANNELS