MH370 Wreckage Found? Pictures Of Missing Boeing Plane Debris Found In Indian Ocean [PHOTOS]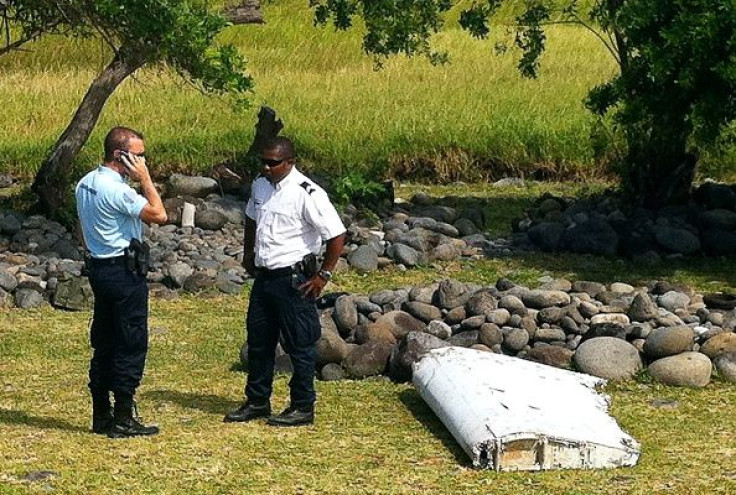 Investigators examined an airplane fragment found Wednesday on an island in the Indian Ocean that could provide long-awaited answers to the mystery of the Malaysia Airlines Flight 370, also known as MH370, that went missing last year. The plane debris was discovered by a crew cleaning the coastline of Reunion Island, a French territory near Madagascar in Africa.
Boeing investigators claim the wreckage is from a 777 aircraft, sources told NBC News. MH370 is the only 777 missing in the world right now. The fragment was about 6 feet long and could be from a plane wing. The wreckage was likely in water "for a long period," the French Interior Ministry told NBC News.
Malaysian Transport Minister Liow Tiong Lai told reporters at the United Nations Wednesday that he had deployed a team to identity the plane wreckage. "Whatever wreckage found needs to be further verified before we can ever confirm that it is belonged to MH370," he said.
French investigators were working with their counterparts in Malaysia and in Australia, which has led the search for MH370, to identify the Reunion Island debris. MH370 went missing with 239 people on board about an hour into its journey from Kuala Lumpur, Malaysia, to Beijing on March 8, 2014.
Investigators have said the plane probably changed course and headed south for hours before it ran out of fuel over the Indian Ocean in an unknown location. For months, investigators have searched the water with boats, planes and sophisticated sonar equipment, but no confirmed piece of the aircraft has been identified.
The debris under review Wednesday was found off the coast of St. Andre, a community on Reunion Island, according to CNN.
Pilot Zaharie Ahmad Shah has been accused of crashing the plane because of personal problems. He allegedly split with his wife Fizah Khan before he boarded the plane for the flight to Beijing. But his spouse denied the allegations after MH370 went missing and said he was a devoted family man who loved his job.
Among the people on board flight MH370 were 227 passengers and 12 crew members traveling from Kuala Lumpur, Malaysia, to Beijing. They were from 14 nations, but most were Chinese.
© Copyright IBTimes 2023. All rights reserved.