Michael Jackson Death Photo Set the Tone for Conrad Murray Trial [PHOTO]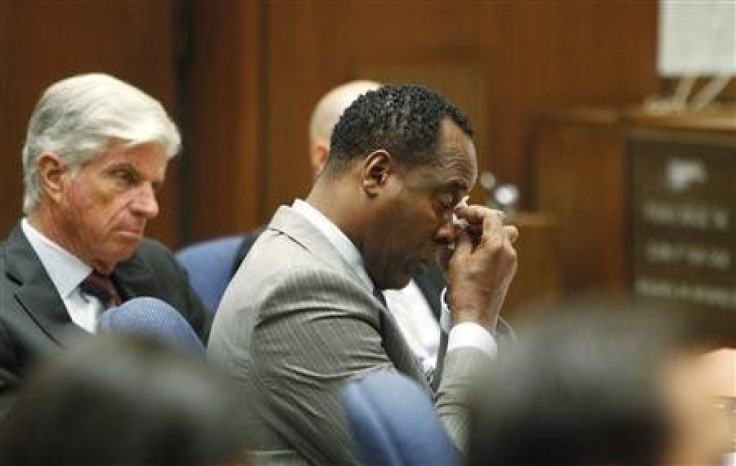 A disturbing photo of a lifeless Michael Jackson lying on a hospital gurney and a shocking audio recording are the dominant symbols in the trial of Dr. Conrad Murray, who is accused of involuntary manslaughter by recklessly administering the surgical anesthetic propofol to the ailing King of Pop.
Jackson died on June 25, 2009, of acute propofol intoxication combined with sedative ingestion. At the time of his death, Jackson was preparing for his ill-fated This is It tour, and witnesses to those rehearsals testified that the singer was not in good condition.
Tour director and Jackson friend Kenny Ortega testified that the singer appeared frail and weak in the time leading up to his death.
My friend wasn't right, Ortega testified. There was something going on that was deeply troubling me.
Ortega wrote an email to concert promoter expressing his concern about Jackson's health and well-being.
There is no one taking responsibility, caring for him on a daily basis, Ortega wrote to Randy Phillips. I was feeding him, wrapping him in blankets ... and calling his doctor.
Ortega testified to a confrontation with Murray at Jackson's home during an emergency meeting on June 20, 2009 where Murray objected to Ortega's suggestions that Jackson not rehearse.
On Wednesday, another concert promoter Paul Gongaware testified that Jackson appeared healthy and energetic during the last two show rehearsals before his death, according to an MSNBC report.
An audio recording played for the jury Tuesday may trump any conflicting testimonies.
During opening statements, Attorney David Walgren presented the recording, which was taken from Murray's phone.
When people leave my show, I want them to say, 'I've never seen nothing like this in my life, Jackson slurs on the recording.
That is what Conrad Murray is seeing and observing on May 10, 2009, and what does he do with that knowledge and information? On May 12, he orders another shipment of propofol and midazolam, Walgren said.
Michael Jackson literally put his life in the hands of Conrad Murray, Walgren continued. That misplaced trust cost Michael Jackson his life.
Murray faces four years in prison and the loss of his medical license if found guilty.
Attorneys presented this photo to the jury during the opening statements at Conrad Murray's trial
© Copyright IBTimes 2023. All rights reserved.