Micromax Rises To Prominence In India: Domestic Mobile Manufacturers Overtake Global Samsung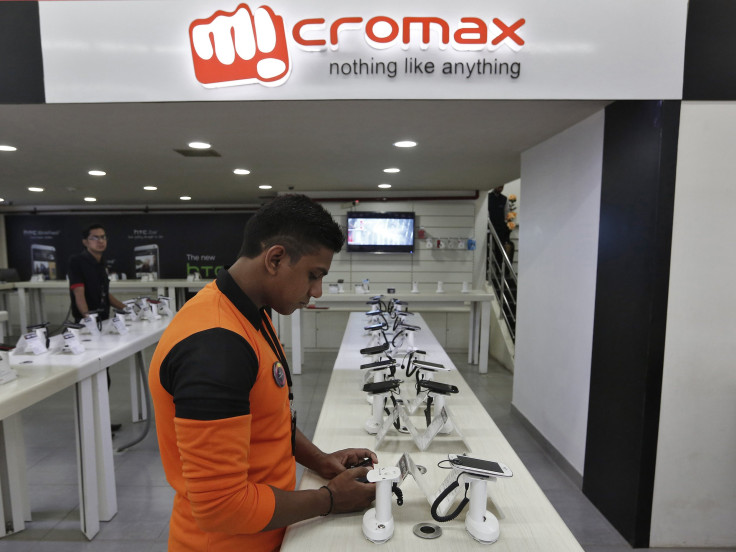 Samsung Electronics Co. (KRX:005930) may be one of the most prominent mobile phone manufacturers in the world, but several up-and-coming companies are aiming to take its place by dominating in their specific regions.
Micromax Informatics Ltd., for one, has surpassed Samsung as the largest mobile phone company in India in terms of units sold, according to recent figures from market research firm Counterpoint Technology. During the April-June quarter, Micromax took 17 percent of the Indian market share vs. Samsung's 14 percent.
The 5-year-old manufacturer has undercut and outsold its way to the top spot in the Indian market by offering low-cost smartphones, which are a necessity for many Indian consumers. Samsung, meanwhile, is known for its expensive premium devices, and even its mid-range and low-end phones can be priced several hundred dollars beyond what's acceptable to price-sensitive Indians.
"Micromax is leveraging its wider distribution reach, growing brand awareness not only in urban [areas] but also in rural India with affordable low-cost handsets," Counterpoint analyst Neil Shah said in a statement.
Though Nielsen's 2013 Mobile Consumer Report indicates that 80 percent of Indian consumers favor feature phones, which do not include a touch screen, a QWERTY keypad or an advanced operating system, interest in smartphones has been steadily increasing in the region. Domestic electronics brands like Micromax, Karbonn and Lava have helped convert many Indian consumers to smartphones. The latter two are the fourth- and fifth-largest mobile companies in India, with market share of 9.5 percent and 5.6 percent, respectively.
Micromax in particular has maximized its ability to offer affordable phones to the Indian consumer by working with makers of inexpensive chips, like MediaTek, and by outsourcing its production to China and Taiwan, according to Reuters.
The April-June quarter uncovered a trend of young mobile companies going toe-to-toe with smartphone heavyweights like Samsung. Just as Micromax has become a mobile mainstay in India, privately held smartphone maker Xiaomi Corp. just overtook Samsung to become the No. 1 smartphone maker in its home country of China. Xiaomi shipped 1 million more smartphones than Samsung did in China during the second quarter, according to recent figures from market research firm Canalys.
"Chinese consumers tend to switch brands far more often [than consumers in] other markets," Dominic Sunnebo, global strategic insight director at ComTech, said in a recent research note. This has helped Xiaomi's rise to prominence, as the manufacturer sells high-end devices for a fraction of the price of premium smartphones marketed by competition like Samsung.
Xiaomi has also found success in India. Recent reports indicate that 150,000 units of Xiaomi's Mi 3 smartphone sold out in just two seconds on Tuesday, during its third stint of availability in the country. Xiaomi is known for releasing its devices in small batches to drum up demand. During prior Xiaomi Mi 3 flash sales in India, 20,000 units of the $230 device sold out in 38 minutes and 50 seconds on July 22, while 10,000 units of the Mi 3 sold out in just five seconds last week.
While Samsung had a disappointing April-June quarter, largely due to diminishing sales of its mid-range and low-end devices, the manufacturer still remains a leader in several international sectors. And for the time being, at least, it's still the largest smartphone company in India terms of units shipped and the largest in China in units sold.
"Samsung has differentiated itself in the Indian market by offering innovative products based on market insights that address customer needs, great customer experience and a nationwide reach," Asim Warsi, vice president of marketing, mobile and IT at Samsung India, said in a statement.
The South Korean manufacturer has already begun to rebuild its influence, in India especially, by releasing three devices with price points under 10,000 rupees ($165).
Meanwhile, Micromax introduced its Canvas Win series of smartphones, which runs the Windows Phone 8.1 operating system in mid-June, and Xiaomi announced its latest Android smartphone, the Xiaomi Mi 4 in mid-July.
© Copyright IBTimes 2023. All rights reserved.