Microsoft's Project Spartan Web Browser Unveiled In Leaked Windows 10 Technical Preview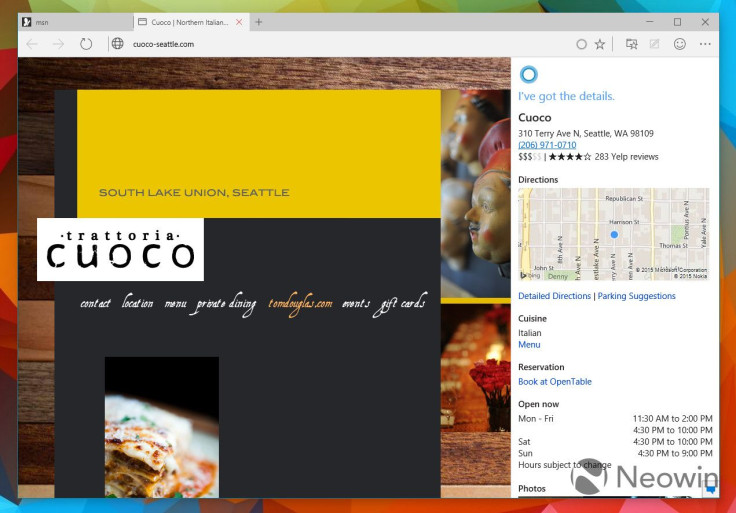 A version of Microsoft's free Windows 10 technical preview is floating around illegal file-sharing sites with an early version of the new Project Spartan Web browser. Microsoft said it will officially release the full version of Windows 10 in the summer, along with the new speech-powered successor to Internet Explorer.
Cortana is Microsoft's digital voice assistant, comparable to Siri on Apple products and Google Now on Android and Chrome. According to one report, Cortana will be featured prominently in Spartan, processing background information that it calculates a user will need at some point in the future.
The end effect of Cortana's work in the background, Microsoft hopes, is a faster browsing (and computing) experience in the present. Neowin downloaded the unofficial build, or version of Windows 10, and revealed that Spartan has a number of useful features involving Cortana.
Right-clicking on a word, for example, brings up a menu on the right that defines it, after Cortana has used the surrounding text to determine the context the word is being used in. When Spartan is used to browse the website of a restaurant or retail store, Cortana bounces in the address bar to notify the user that it has information, including hours of operation, menus, reviews and maps to the location.
Cortana could be a revolution in computing or the next Clippy the Paperclip. It might also find a useful middle ground, while taking some of the wind out of Google's sails: Neowin reports that Cortana on Project Spartan will give users the forecast as soon as they type "weather" in the URL bar, without having to conduct a search.
Spartan, the site reports, also includes a reading mode that shows only the text of a website, removing advertisements and other extraneous information from view. A similar feature exists on Apple's Safari Web browser.
The significance of Microsoft's work on reinventing its Web browser is two-fold. By focusing on Spartan and placing Internet Explorer in the background, the Redmond, Washington-based software company is acknowledging that it is losing the browser wars.
The move also shows that Microsoft recognizes the importance of a good Web browser in the computing experience -- a fact not lost on Google, which arms its low-cost Chromebooks with the Chrome browser. A report from Anandtech revealed earlier this year that Project Spartan's Web-rendering engine, which largely determines the speed at which a page loads, was significantly faster than the one powering Internet Explorer.
If Microsoft wants to win back the computing community it lost with Windows 8, then offering a compelling Web browser is a good start.
© Copyright IBTimes 2022. All rights reserved.
FOLLOW MORE IBT NEWS ON THE BELOW CHANNELS