Midterm 2014: Obama, The Economy, Women, Ebola, What Analysts Are Watching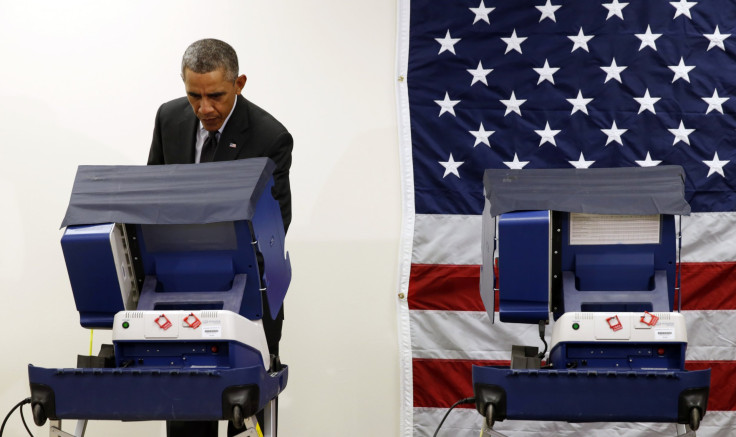 Voters are about to choose the occupants of 36 governors' mansions, 36 U.S. Senate seats and all 435 House seats -- not to mention state-level jobs across the country. With that many races, no one factor will explain the outcome, and everything from the national mood to local weather will play a part. Still, analysts have a job to parse the results, and below is what they will be tracking on Tuesday.
Who's Voting?
If you've ever listened to football commentary, you know that it all comes down to which team controls the line of scrimmage. The political version of that mantra is that it's all about turnout. In recent presidential cycles the Democrats have done a better job of motivating their voters, who tend to be younger and include more minorities and women. But the demographics of the typical midterm voter (i.e., older, whiter, wealthier, male) tend to overwhelmingly vote Republican.
"This election is going to be determined by turnout, by the party that is able to get their people to the polling booth," Julia Clark, a pollster with Ipsos, said. "This year Republicans are better at it. Nothing indicates anything is going to change that. The GOP's 'get out the vote' efforts are working very hard."
In a CBS poll taken last weekend, 48 percent of Republican voters said they are enthusiastic compared with 42 percent of Democrats. And Republicans led 50-44 among likely voters, according to an ABC/Washington Post poll conducted from Oct. 23 to Oct. 26.
Early voting has already begun, with 15 million votes cast by Friday night, according to AP. In 2012, early voters tended to support Democrats. This year the results seem split, with Republicans saying the early voting in Iowa favors Joni Ernst's Senate candidacy, and Georgia Democrats seeing strong early voting by African-Americans as a positive sign for Senate hopeful Michelle Nunn.
How Badly Will President Barack Obama Drag Down The Democrats?
The president's approval ratings in recent weeks are among their lowest ever. He rose from a winter slump in the spring of this year but dropped again over the summer. Republicans have seized on his struggles and relentlessly tied Democratic candidates to the unpopular president. The strategy appears to be working. A Pew Research poll last week showed that 61 percent of GOP voters saw a vote for a Republican candidate in the midterm as a vote "against" Obama.
Obama didn't help his party in a speech at Northwestern University on Oct. 2 when he said his policies "are on the ballot, every single one of them." The GOP pounced on the comment to push their message that "a vote for a Democrat is a vote for [Obama] and his failed policies."
Twice as many voters said they'd vote to show their opposition to Obama as those who said they'd show up to express their support, according to the ABC/Washington Post poll from last weekend. Some Democrats have tried to distance themselves from the president, but they're "going to get tagged with [the affiliation] anyway," said David Axelrod, Obama's former political strategist.
It's Still The Economy, Stupid
An Associated Press-GfK poll conducted from Oct. 16 to Oct. 20 found that 91 percent of likely voters ranked the economy an important issue in the midterm. Another CBS poll found that voters think Republicans can do a better job handling the economy by a 7-point margin over Democrats. Most polls find that between just 30 and 40 percent of voters think the economy is in a good position. Obama has tried to highlight recent economic gains, but it appears those gains haven't sunk into enough voters minds to turn into Democratic votes.
Democratic candidates lead 71-24 over Republicans among voters who believe that the economy has gotten better in recent years, but nearly the same margins of voters who support Republican candidates believe that the economy isn't getting better or even worsened -- and there's more of them, according to the ABC/Washington Post poll taken last week.
"The progress has been hard," Obama said to a crowd at Rhode Island College on Friday. "It's sometimes been challenging in particular states, but it's been steady, and it's been real.... Millions of Americans don't yet feel the benefits of a growing economy where it matters most, and that's in their own lives."
Wooing Women
Both parties have tried to win over women voters. The Democratic Party needs to re-energize one of its most consistently supportive groups -- and it's not doing as well as usual with them right now. The GOP must find a way to boost its typically weak support if it hopes to compete with Democrats in coming years. Democrats are targeting single women, with whom Republican candidates have done especially poorly.
Nearly half of all ads being run by Democratic Senate incumbent Mark Udall have criticized Republican challenger Cory Gardner's opposition to contraception and abortion. The Republicans are trying hard to highlight how their party can help women, but some attempts have done more to alienate women from the GOP than bring support, like the "Say Yes To The Candidate" ads from the College Republican National Committee, which they ran for a number of Senate races. Time called it "the most sexist Republican ad of the year."
Some have been more effective, like Michigan Republican Senate candidate Terri Lynn Land's ad against Democratic incumbent Gary Peters, which gained some praise around the country, but wasn't enough to chip away at Peters' massive lead among women, which sits at more than 14 percent as of last week.
But fewer single women participate in midterms than presidential elections, so Republicans could survive -- especially given their consistent lead among male voters.
Foreign News And Fears
Last week's Pew Research poll found that voters think that the Republican Party could do a better job handling the terrorist threat, but high approval ratings for Obama's airstrike policy against the Islamic State group have made it tough for Republicans to seize on fears of ISIS.
Both parties have tried to capitalize on the Ebola outbreak, apparently without much success. "[In] the states that I was in, whether it was the Midwest or the South, Ebola wasn't a huge issue in these Senate races," said NBC's Chuck Todd. "It could play, but voters aren't exactly holding one party against the other on this."
"These big stories like ISIS and Ebola do matter to some extent, mostly among difficult-to-influence and reach voters," said David Rosen, founder of First Person Politics. "But I still think the No. 1 issue is the economy. We have a climate of fear; anytime you have a climate of fear, that's going to benefit the conservative party."
The Surprising Nonissue: Immigration
Candidates from both parties stayed largely quiet about this issue. Obama's press secretary Josh Earnest admitted that Obama delayed action on immigration reform until after the midterms so that Republicans wouldn't be able to make it central issue in their campaigns.
But his caution may not have mattered. A Latino Decisions poll conducted in the second week of October found that 51 percent of Latinos thought immigration was the biggest issue in the midterms, but they don't make up a significant portion of the midterm electorate. "Republicans would probably hold the House –- and still have a real chance to retake the Senate -- if they lost every single Hispanic voter in the country," wrote the New York Times' Nate Cohn.
Expect immigration to be a more prominent topic in the 2016 election, when the electorate is more diverse.
(The midterms' other surprise nonissue -- which almost certainly won't be back in 2016 -- is Obamacare. Republicans still hate the Affordable Care Act, but have found that calls for repeal don't fire up the base the way they once did.)
Pollsters Are Confidently Predicting ... Uncertainty
Some pollsters themselves are wary about results this year. When asked what she was keeping an eye on, Ipsos' Julia Clark said she was watching how hard it was to poll this year.
"States where we have some close elections are hard to poll in," she said. "Alaska is hard to poll, Kansas is hard to poll. It's a factor of population and geography. Its not like polling in Florida or Iowa where pollsters poll regularly. There a little more uncertainty. I think we'll see a little more variability."
© Copyright IBTimes 2023. All rights reserved.