Midterms 2014: Candidates With Ties To Pension Business May Gain Control Of State Pension Funds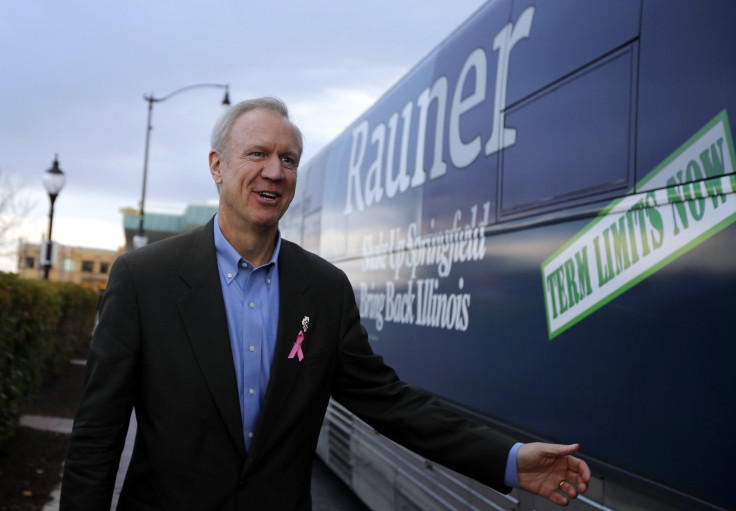 In the final days of his campaign to become governor of Illinois, Bruce Rauner cites his experience as a financial executive as an asset for dealing with his state's formidable budget troubles. Yet that very experience presents what opponents describe as a substantial conflict of interest: Rauner's firm earns fees by managing a slice of the state's pension money. If he wins the election, his appointees would control the entire multi-billion-dollar pension system and they would be in a position to place more of that money into the hands of private financial firms.
Rauner, a Republican, is not alone. In three other gubernatorial races -- Rhode Island, California and Massachusetts -- candidates with ties to firms that manage state pension money now stand to gain authority over those pension systems. Meanwhile, the Republican Governors Association, now headed by New Jersey Gov. Chris Christie, has backed some of these gubernatorial candidates with money raised from employees of financial firms that manage New Jersey pension money. That money has flowed into the Christie-led RGA -- and then out to GOP candidates -- despite New Jersey and federal rules designed to restrict contributions to state officials from firms managing state pension money.
The gubernatorial candidate in Rhode Island, Democrat Gina Raimondo, has touted her financial experience as one reason voters should support her campaign. Rauner, likewise, aired a television ad promoting his career "invest[ing] pension funds for teachers and police, helping them earn far better retirement income."
But government ethics experts express concern that governors drawn from the ranks of companies that manage pension money could bring an inherent conflict of interest: Their duty to do right by taxpayers and retirees could be pitted against their personal financial interests and their loyalties to longtime Wall Street associates.
"You want financial decisions about pension funds to be made with the interests of the pension in mind, and these scenarios raise questions about whether they are and will be in the future," said Melanie Sloan, a former federal prosecutor who runs the watchdog group Citizens for Responsibility and Ethics in Washington. "The question is: If these gubernatorial candidates are elected, are they going to be making decisions in the best interest of the pension funds or their former colleagues?"
The Republican gubernatorial nominees in Massachusetts and California were, until recently, on the payroll of financial firms that manage state pension money.
In Massachusetts, venture capital executive Charlie Baker served on the board of funds run by Natixis and its subsidiary Loomis Sayles until 2013. His tax records show he made $500,000 from Loomis Sayles. That firm is currently listed as managing the assets of the Massachusetts pension system that Baker's appointees would oversee, should he win next week.
Baker is currently embroiled in a pay-to-play investigation in New Jersey over his $10,000 contribution to the New Jersey State Republican Committee just before Christie officials invested state pension money in Baker's venture capital firm. He has denied any wrongdoing but said he regrets the contribution.
California candidate Neel Kashkari was an executive at Goldman Sachs and PIMCO, the enormous bond firm. The former company manages money for the California State Teachers Retirement System, and the latter manages money for the California Public Employees Retirement System.
The campaigns of Baker and Kashkari did not respond to International Business Times requests for comment.
In Rhode Island, the connection is even more direct. There, Raimondo not only worked for a financial firm, Point Judith, that manages state pension cash, she also still periodically earns income from her stake in the firm. As the state's General Treasurer, she has blocked the release of state documents about pension fees, issuing a letter backing financial executives who want to "keep this information confidential to help preserve the productivity of their staff and to minimize attention around their own compensation."
The relationship between Raimondo, Point Judith and government money has been a source of controversy during the 2014 campaign. In the state's Democratic primary, Raimondo was accused of keeping details of public investments in the firm secret. Now in the general election, Cranston Mayor Allan Fung, the Republican gubernatorial nominee, has criticized Raimondo's links to the firm after a report this week showed that as chairman of the Providence Water Providence Water Supply Board, her husband directed municipal money to one of the firm's portfolio companies.
A Raimondo campaign spokesperson told IBTimes in an emailed statement: "Soon after Gina became Treasurer, she cut off all ties with her old firm, put the interest in a blind trust and went above and beyond what was required by receiving an opinion from the Ethics Commission." The spokesperson also said Raimondo's "experience building businesses from the ground-up and creating jobs is exactly why she is the right choice for governor in a state that still struggles with one of the highest unemployment rates in the country."
No political candidate has deeper connections to pension management than Rauner. He was a longtime principal of GTCR -- a firm that has managed the money of state pension systems for decades. That includes the $39 billion Illinois Teachers Retirement System and $13 billion Illinois State Board of Investment, both of which are run by gubernatorial appointees.
Rauner retains an ownership stake in 15 different GTCR entities. Though he said he retired from GTCR in 2012, the firm's SEC documents show that he still retains an active partnership stake in at least one GTCR entity called GTCR Management X, L.P.
Rauner's campaign did not respond to IBTimes' request for comment.
Rauner, like Raimondo has pledged to put his holdings in a blind trust if he wins. But former SEC attorney Ted Siedle says that response doesn't sufficiently remove the potential problems.
"When it comes to long-term private equity investments, a blind trust is not really 'blind' because the beneficiary knows from the get-go what firm is managing their money," Siedle told International Business Times. "These are not like day-to-day stock trades. The money is locked up in a particular financial firm, and the investor knows that, meaning they know the most important piece of information that could shape their public policy decisions."
Rauner's campaign has slammed Siedle as a "union attack dog." But an SEC document from Rauner's firm underscores Siedle's point about the differences between pension funds' investments in stocks and in private equity firms -- and how such differences open up the possibility of conflicts.
The document says that GTCR may allow firm employees and "friends of the firm" to invest in special funds alongside its other investment funds -- such as those it manages for public pension systems.
It says GTCR may give certain investors "more favorable [investment terms] than those offered to any other" investors -- like, say, the Illinois pension system.
The document says GTCR may end up "selling underperforming assets" to GTCR entities in which public pension systems invest "in order, for example, to earn fees."
And the document says that GTCR reserves the right to keep information secret from investors.
If Rauner wins in November, his pension appointees would be in a position to either challenge or acquiesce to those kind of GTCR transactions and terms that directly affect Illinois taxpayers. His appointees would have the power to offer more -- or less -- disclosure of the details of the state's investments in firms like GTCR.
SEC documents show that the GTCR subsidiary in which Rauner retains an active partnership stake provides "professional services" (an undefined term) to companies that GTCR buys on behalf of investors like public pension funds. The SEC is currently investigating whether such arrangements effectively loot investors' assets by charging those portfolio companies unnecessary fees that are never shared with the investors. If Rauner is elected, his pension appointees will be in a position to decide whether Illinois challenges those arrangements.
The GTCR documents acknowledge that the firm's dealings "may create conflicts of interest." Siedle argues that those conflicts of interest could become exponentially more significant in Illinois if Rauner is governor, because he could be on both sides of pension investments -- one side representing the state's interests, the other side representing his own or his firm's interests.
"If Rauner becomes governor, it will be like the fox taking over the henhouse," Siedle said. "He will be in the position to influence whether and how his firm continues to manage money for the Illinois state pension system -- and he will be able to keep it all secret."
Beyond any specific conflicts of interest, having financial executives take control of state pension operations may influence the ongoing debate about proper investment strategies. In many states, pension overseers have been shifting growing slices of money into hedge funds, private equity funds and other so-called alternative investments, incurring larger fees in pursuit of greater returns. Financial executives may be less likely to raise questions about the merits of this strategy.
"Pension funds have to make decisions which take account of a range of views about different investments," Oxford University finance professor Tim Jenkinson told IBTimes. "That requires having pension trustees who are not overly influenced by the views of a person who has personal financial connections to one kind of investment strategy. If that person happens to be a private equity guy and also happens to be the governor who appoints a pension fund's trustees, it could create problems -- because that person isn't going to be completely objective on questions about investment strategies."
© Copyright IBTimes 2023. All rights reserved.