Miley Cyrus Covers Bare Chest With Rabbits, Wears Bunny Ears In Instagram Photo
Miley Cyrus recently went topless to celebrate Easter Sunday with her 92 million Instagram followers.
On Sunday, Liam Hemsworth's wife, 26, shared a throwback photo of herself baring it all, with only two bunny rabbits covering her nipples. Keeping to the Easter theme, Cyrus donned a pair of white bunny ears and stuck out her tongue in the snap.
In her caption, Cyrus greeted her followers a "Happy Easter."
Aside from the throwback snap, the "Malibu" singer also shared other photos and videos of herself dressed up as a sexy bunny for Easter Sunday.
A series of short clips showed the "Hannah Montana" star looking gorgeous in a pink off-the-shoulder dress and a wavy wig of the same color. One video featured Cyrus bending down to send kisses to the camera while she has her hands on her chest. Another clip showed her sticking her tongue out and winking, while the third video featured her in several different poses.
This isn't the first time Cyrus went topless in an Instagram photo this month. On April 6, the "Wrecking Ball" singer posted a photo of herself dressed in nothing but a glittery jacket as she holds up dollar bills over her chest to celebrate her dad topping the iTunes charts.
Billy Ray Cyrus remixed Lil Nas X's "Old Town Road," which debuted on the Billboard Hot 100, Hot Country and Hot R&B/Hip Hop charts simultaneously before being removed from the Hot Country chart. Following the release of Billy Ray's version, the song soared to the top of Spotify and Apply Music charts.
Cyrus' latest Instagram posts come a few weeks after she fueled speculation that she and husband Liam may be expecting their first child soon.
On her Instagram Stories, Cyrus posted a still of her and Hemsworth from their movie, "The Last Song," which brought her and the Aussie heartthrob together nearly a decade ago. The photo showed her and Hemsworth looking far off into the distance.
In her caption, Cyrus talked about what her and Hemsworth child would be like, saying he or she would be so "extra." She also poked fun at herself and her husband, adding, "soooomooooody."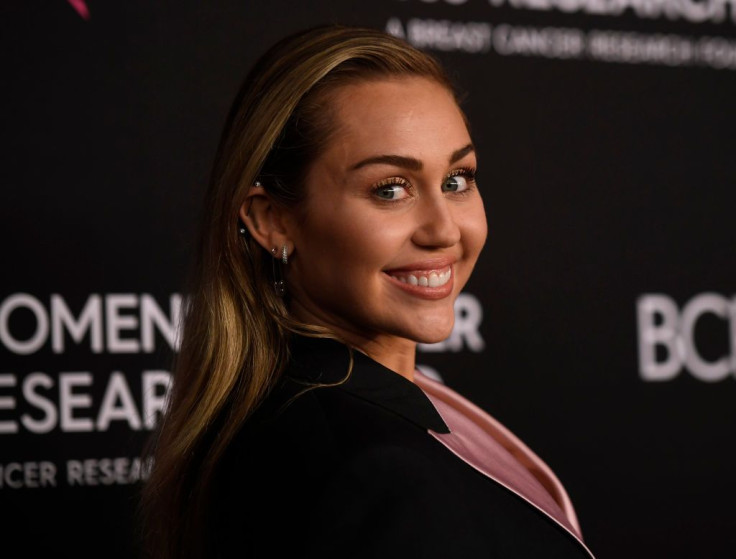 © Copyright IBTimes 2023. All rights reserved.