Miley Cyrus Hits Center Stage To Host 2015 MTV Video Music Awards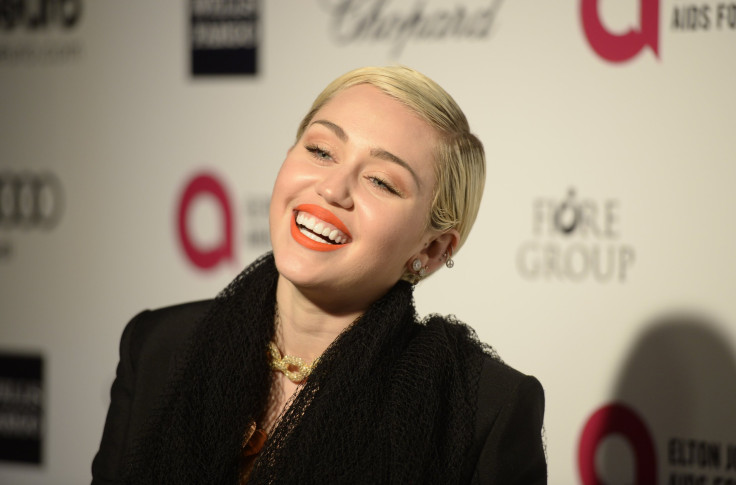 It's official! Miley Cyrus will host this year's MTV Video Music Awards.
The 22-year-old singer is expanding her capabilities in the music industry. She will not be performing at this year's MTV Music Video Awards, but rather will be hosting the entire show. The surprising announcement came on Monday when the "Wrecking Ball" singer tweeted photos of herself in a hooded green alien costume wearing a sandwich board. In the first photo, the sandwich board read "MTV won't let me perform" while the other portrayed a rather excited Cyrus with a message that said "So I'm hosting this year's VMAs." The photos were captioned: "F--k yeah VMAs!!!!! #VMAs on @MTV Aug 30 at 9pm," proving her much-awaited enthusiasm for hosting an awards show. The announcement was also confirmed by the singer's representative and MTV News itself.
The former "Hannah Montana" star gained notoriety in 2013, when she twerked all the way on stage with Robin Thicke. The twerking frenzy and resulting controversy, according to E! Online, has increased the show's ratings.
Last year, the "Party In The U.S.A." singer yet again stole the VMAs. Jesse, the singer's mystery date, accepted the award for Video of the Year for "Wrecking Ball." According to Billboard, Jesse took the time in the spotlight not to thank Cyrus' fans nor speak of the award. Rather, the young man shed light to address an alarming 1.6 million homeless children and teenagers. "I've been an extra in your movies, I've been an extra in your lives," he said to the star-studded crowd. "Los Angeles has the largest population of homeless youth in America."
While Jesse ended his speech with a famous John Lennon/Yoko Ono quote, "A dream you dream alone is only a dream, but a dream we dream together is reality," the "Can't Be Tamed" singer was seen elated and teary-eyed, watching him amongst the audience.
Based from her performance in the past two years, fans can expect another thrilling act from the host.
The 2015 MTV Video Music Awards will air on Aug. 30 at 9 p.m. EDT live from the Microsoft Theater in Los Angeles. Nominations will be released on Tuesday at 10 a.m. while voting will begin at 11 a.m.
© Copyright IBTimes 2023. All rights reserved.