Miley Cyrus Hospitalized, Shows Off New Tattoo From Hospital Bed
Miley Cyrus has been hospitalized. She revealed this in a bunch of photos she uploaded to her Instagram stories. The 26-year-old singer shared a couple of selfies from her hospital bed while she was updating her fans about her health.
One of the snapshots showed the "Can't Be Tamed" singer lying in bed and wearing a white hospital gown with multiple IVs hooked into her arm. Cyrus, who was accompanied by her mother Tish in the hospital, asked for good wishes from her nearly 100 million followers, so that she can recover fast and make it to Gorillapalooza.
Gorillapalooza is an upcoming Los Angeles benefit show hosted by Ellen DeGeneres and her wife Portia de Rossi in association with their wildlife charity, The Ellen Fund.
"Trying to heal quick so I can to Gorillapalooza… this weekend!" the "Hannah Montana" star wrote, tagging de Rossi and DeGeneres in her post.
The singer also flaunted her new tattoo on the left arm while clicking the pic. But the fans were unable to see the design since it was wrapped in a plastic sheet. Renowned tattoo artist Doctor Woo cleared all the confusion by sharing an image of Cyrus' new tattoo on the photo-sharing platform.
"Ancient symbols found on rock walls with some woo twist for @mileycyrus," he wrote alongside the snap.
In another snapshot, the talented musician is seen standing in the hospital room and clicking a selfie in front of a mirror. Once again, she's wearing the hospital gown while clearly on a mobile IV. The pouch containing the fluid can be seen on a portable stand near the singer.
The picture showed a touching moment between Cyrus and her mother as Tish was standing behind her daughter, seemingly tending her hair.
Fans were quick to reach on her depleting health and sent some positive vibes by sharing "get well soon" messages.
Earlier, the "Wrecking Ball" hitmaker complained about her illness by going topless under the sheets, telling her followers that her tonsils were giving her a hard time.
The emoji in the snapshot showed a thermometer and a bandaged face, hinting that Cyrus was feeling under the weather. Just a few weeks earlier, she shared a strenuous workout routine and told her fans how to stay fit in stressful times and hectic schedules. But it seems all the stress that she has been enduring in recent times finally caught up to her.
Meanwhile, it is being reported that Cyrus has moved on from her past relationships and is already dating Aussie singer Cody Simpson. The "Hands Of Love" singer was reportedly spotted kissing Simpson at a grocery store.
On the other hand, Simpson surprised his fans by posting a picture of him and Cyrus in one of his Instagram stories. The "La Da Dee" singer called Cyrus his "baby," which gave a perspective that things are appearing to get more serious between the two of them.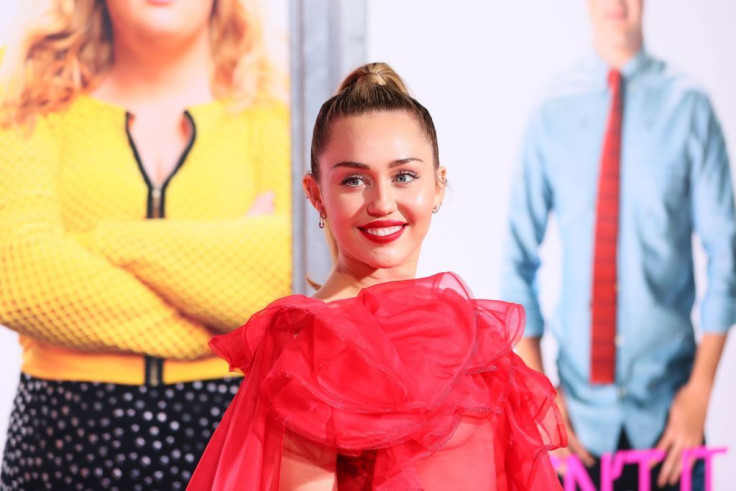 © Copyright IBTimes 2023. All rights reserved.