Miley Cyrus Takes A Dig At Taylor Swift And Kendrick Lamar For Showing Violence And Drugs In Their Videos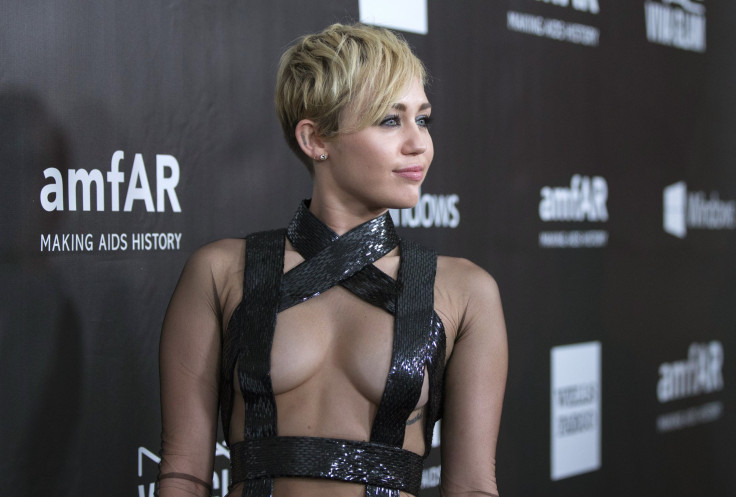 Miley Cyrus has taken a dig at fellow pop stars Taylor Swift and Kendrick Lamar in her latest interview with Marie Claire magazine. The "Wrecking Ball" songstress is upset she is criticized for posing nude in her music videos but her peers get away by showing violence and blood in theirs.
"I don't get the violence revenge thing. That's supposed to be a good example?" Cyrus said of Swift's "Bad Blood" music video. "And I'm a bad role model because I'm running around with my t--- out? I'm not sure how t--- are worse than guns," she said.
The singer does not understand the double standard in the music industry and said there is "so much sexism and ageism" prevalent in the songs of her peers. She finds it surprising though that only she gets targeted for showing sensuality in her music videos. "Kendrick Lamar sings about LSD and he's cool. I do it and I'm a druggie w----," Cyrus told the magazine.
The unconventional singer has nothing to hide from her fans. There are no two faces of the pop starlet. Whatever she is in real life, she portrays it in her music too. "I don't really stress too much about being out there. There's nothing left to catch me doing," Cyrus said. She is also not scared of anything bad happening to her -- like her emails getting hacked for her nude pictures. The singer would rather "put them [the nudes] out" herself for everyone to see.
Though Cyrus may come across as somebody who is rebellious and insensitive, she is quite sensitive to LGBT issues and has opened the Happy Hippie Foundation as a result. Cyrus also talked about being "gender-fluid" and "gender-neutral." "People need more conventional role models, I guess. But I just don't care to be that person," she said.
© Copyright IBTimes 2022. All rights reserved.
FOLLOW MORE IBT NEWS ON THE BELOW CHANNELS