Miley Cyrus Tests Positive For COVID-19 After World Tour: 'Definitely Worth It'
KEY POINTS
Miley Cyrus announced her COVID-19 diagnosis via Twitter Friday
She revealed that she won't be able to perform at the fourth annual Janie's Fund event due to her diagnosis
Cyrus' fans and supporters wished her a speedy recovery
Miley Cyrus is sitting out Grammys weekend after testing positive for COVID-19.
Cyrus, 29, took to Twitter Friday to announce her COVID-19 diagnosis and assure fans that she's fine.
"Traveling around the world, [playing] for a 100,000 people a night & meeting hundreds of fans a day, the chances of getting Covid are pretty high," she tweeted Friday. "I have Covid now, but it was definitely worth it."
Fans wished the singer a speedy recovery via social media. "Take care of yourself, Miley! You are so strong!" one Twitter user wrote. "Get well soon, queen!! I love you, and I hope you recover fast," a second supporter commented.
However. some criticized Cyrus over her claim that going on tour was "worth" contracting COVID-19.
"No, nothing is worth getting COVID. If it becomes severe or gives you long-lasting issues, you won't be thinking that. And hopefully, you don't give it to someone who dies from it," one person commented.
"[I]t was not worth it, Miley. I know you have opportunities to take care of you[rself] like pro, you will get some meds and you need to get some rest. my family member died because of COVID, and I would do anything to have him back. This illness isn't worth anything," another user wrote.
Shortly after her first tweet, the "Wrecking Ball" singer shared that she will be missing out on an important event following her diagnosis.
"Unfortunately, because of this, I'm missing out on Janie's Fund, which sucks because it's a charity that's super important to me and my friend, Steven Tyler. I am feeling fine so don't worry about me! Sorry, Steven! We'll have to 'Walk This Way' another time!" Cyrus wrote.
Tyler's event serves as a celebration that benefits Janie's Fund, a philanthropic effort to help girls who are victims of trauma of abuse and neglect. Chairmen of the event include Jim Carrey, Caitlyn Jenner, Paula Abdul, John Stamos and more.
While Cyrus canceled this performance due to the coronavirus, she had to pull out of a performance in Paraguay last month due to a lightning strike.
Cyrus was scheduled to headline the 2022 Asuncionico music festival. However, an intense storm led the singer and her team to undergo an emergency landing after their plane was struck by lightning. The artist assured fans via Instagram that she was safe but confirmed that she would not be able to make it to the show.
Meanwhile, Cyrus' COVID-19 announcement comes on the same day she released her first-ever live album "Attention: Miley Live," which includes new songs "Attention" and "You," as well as previous hit songs like "We Can't Stop" and "Where Is My Mind," plus "Wrecking Ball" and "Nothing Compares."
Cyrus also covered a number of songs made popular by other artists, including "Heart of Glass" by Blondie, "Jolene" by Dolly Parton and "Like a Prayer" by Madonna.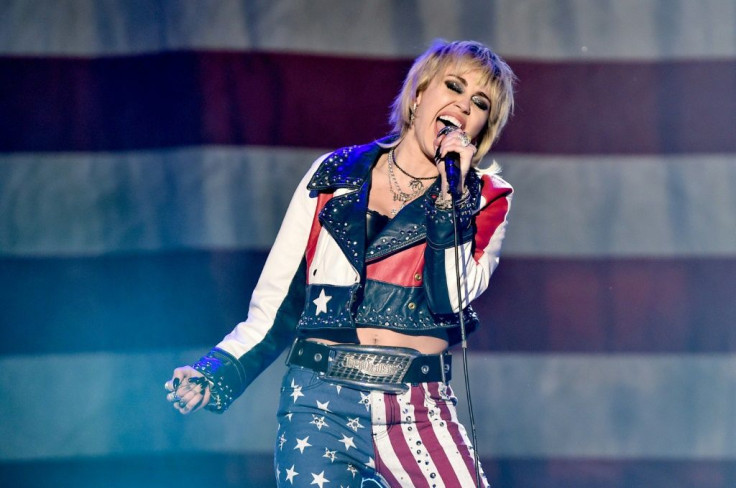 © Copyright IBTimes 2023. All rights reserved.