Mindy Kaling Commemorates Final Day Of 'The Mindy Project' With Sentimental Photos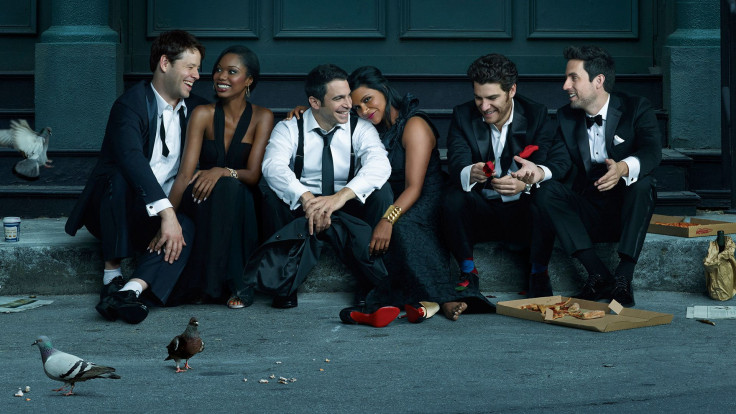 And just like that, it's a wrap on "The Mindy Project."
The Mindy Kaling-created series is currently airing its sixth and final season on Hulu, and with filming officially wrapped as of Wednesday, all the episodes are almost ready to go for airing.
But with Kaling, who also played the lead character Mindy Lahiri, and the cast and crew of the series having spent years working together, the final day of filming together wasn't about to go undocumented. It was going to be honored, the way it deserved to be.
Kaling decided to post a stream of "last day" photos on Instagram, that were enough to make the casual watcher cry and put the diehard fans into a fetal position. She started with a shot of her sitting at her office desk with a smile on face while looking up at the ceiling. And she captioned it with precisely what the series of pictures were about, which was the cast and crew's last day on set and about remembering all the great times they'd had together.
The next photo showed producers David Stassen and Matt Warburton from early on in "The Mindy Project" days, and Kaling let her followers know in the caption that this was still just the beginning of all the posts to come.
To keep with the sentimental theme and kick it up a notch, "The Mindy Project" creator posted a slideshow, outfitted with music and all, of Rebecca Rittenhouse to honor the filming of her character, Anna Ziev, coming to an end.
After which, Kaling really started brining fans back in time, posting three more photos from Season 1. One of which includes a face that you might've forgotten about. That would be Zoe Jarman, who played Betsy Putch in the first two seasons of the series.
"Please enjoy this insane photo from the season one writers room when we had glamorous visitors from NYC," Kaling captioned the following photo. "Tracey and Adam weren't even dating yet! Matt looks 16 years old! I look like a Gremlin!"
A photo of characters Danny (Chris Messina) and Morgan (Ike Barinholtz) from the Season 1 triathlon was posted next.
That's a wrap on Season 1 photos. Next up: Season 2.
Pulling fans back to present day, Kaling got extra gushy and released of photo of her wearing a pink sweater with white stars on it. And if you don't know why that's so special. Let Kaling explain.
"This maybe isn't that interesting but for sentimental reasons I am wearing the same sweater I wore in the end of the pilot today to work," she captioned the shot.
To keep the heavy tears flowing, the series wrap slideshow montage for Messina's character, Danny, came next. This only acts as another awful reminder that not only is that a wrap on Danny, but also his stripper alter ego, Diamond Dan.
If you're all out of tissues, you better go grab more because the series wrap videos only continue from here, with one for Ed Weeks' Jeremy Reed, Fortune Feimster's Colette Kimball-Kinney, Beth Grant's Beverly Janoszewski, Xosha Roquemore's Tamra Webb and Barinholtz's Morgan Tookers.
After all was said and done on the last day of filming, everyone gathered in the "video village" for the final night of "The Mindy Project" together.
The final season of "The Mindy Project" is currently airing on Hulu on Tuesdays.
© Copyright IBTimes 2023. All rights reserved.