Minnesota Anti-Muslim Billboard Taken Down After St Cloud Catholic Charities Accused Of Resettling 'Islamist' Syrian Refugees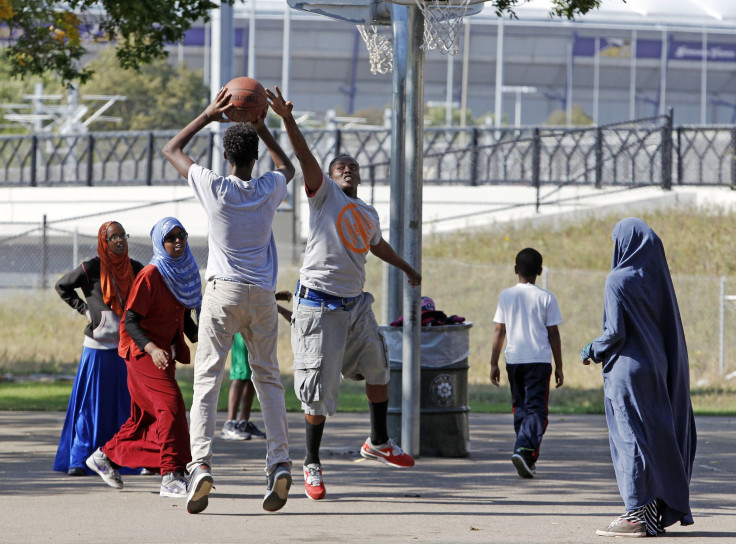 A Catholic Charities office in Minnesota has not been helping Muslim refugees resettle in the St. Cloud area. But motorists passing a billboard along Stearns County Road 75 in recent days may have gotten the opposite impression — that is, until a billboard advertising firm had it taken down Wednesday.
The sign read: "Catholic Charities Resettles Islamists: EVIL or INSANITY?" It stoked fears among Minnesota's Somali immigrant community, which has been the target of anti-Muslim groups in recent months, the Minneapolis Star Tribune reported.
A spokesman for Catholic Charities in St. Cloud said it contacted Franklin Outdoor Advertising because the billboard was untrue. The ad firm agreed to remove the sign because of its inaccuracy, said Steve Bresnahan, the executive director of Catholic Charities of the Diocese of St. Cloud.
"They were very, very responsive and in a matter of a couple of hours they said it would be coming down," he told the Star Tribune.
The sign appeared amid national debate over whether to resettle in the U.S. Syrian refugees who have fled from war and violence in the Middle East to hospitable countries in Europe. But anti-Muslim rhetoric has increased following last year's deadly terror attacks in Paris and San Bernardino, California, in which the culprits were immigrants who authorities said may have had ties to the Islamic State group in Syria and Iraq.
As some conservative politicians requested a halt to plans from U.S. president Barack Obama's administration's to resettle thousands of refugees in the U.S. over the next year, Republican presidential candidate Donald Trump called for a temporary ban on all Muslim immigration and travel, sparking national outrage among religious leaders across all faiths. However, some Republican figures rejected the plan publicly.
The national headquarters of Catholic Charities defiantly pledged to help resettle Syrian refugees in states where Republican governors had vowed to oppose their resettlement last December. Meanwhile, the Catholic Charities offices in St. Paul and Minneapolis has resettled Muslim and non-Muslim refugees from Myanmar and Somalia, a spokeswoman said.
States With the Most Syrian Refugees Since 2012 | Graphiq
Franklin Outdoor declined Wednesday to identify who paid for the billboard, the Star Tribune reported. But Dan Franklin, spokesman for the ad firm, said the company viewed the message as an issue of free speech.
"I like to give everyone equal treatment for their beliefs and message regardless of if I believe in them or not," Franklin said. "Some people find [the messages] offensive, but I believe that they have the right under the First Amendment to state their opinions on the topic."
© Copyright IBTimes 2023. All rights reserved.