Miss USA Controversy: Trump, Univision Settle For More Than $10M, Candidate Says On Twitter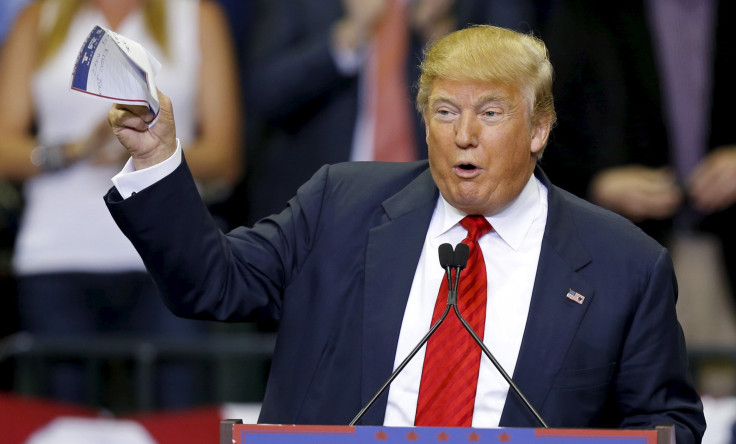 Real estate mogul and Republican presidential candidate Donald Trump tweeted Saturday he and Univision Communications Inc. had come to a settlement of more than $10 million stemming from the network's decision not to air the Miss Universe and Miss USA pageants last year. The settlement itself was announced Thursday, but the terms of it were previously undisclosed, the Wall Street Journal reported.
The Spanish-language network scrapped plans to air the pageant after Trump made comments about building a wall between the U.S. and Mexico, adding Mexican immigrants were rapists who brought crime and drugs into the United States. Univision terminated its contract with Trump in June, leading Trump to file a lawsuit against Univision for $500 million for defamation and breach of contract.
At the time of Trump's comments in June, he co-owned with NBCUniversal the Miss USA and Miss Universe pageants, Fortune reported. Trump also sued NBC, but they reached a settlement as well, in which Trump bought the remainder of NBC's half of the Miss Universe Organization.
In September, just three days after becoming the only owner of the Miss Universe Organization, which included the Miss Universe, Miss USA and Miss Teen USA pageants, he sold it to the WME/IMG agency, the Los Angeles Times reported.
Trump has had public confrontations with Univision reporters on the campaign trail, including kicking one reporter out of an August news conference in Iowa upon being asked about immigration. A Univision crew reportedly also was turned away from a Trump event in Florida.
While the row between Trump and Univision played out publicly for months, Univision issued a mild statement Thursday after the settlement was announced.
Univision CEO Randy Falco said he has "known Donald Trump for many years in both a personal and professional capacity, and we are pleased to settle this matter and move forward," CNN Monday reported.
© Copyright IBTimes 2023. All rights reserved.