Missing Malaysia Flight: MH370 Search To Resume Off Australian Coast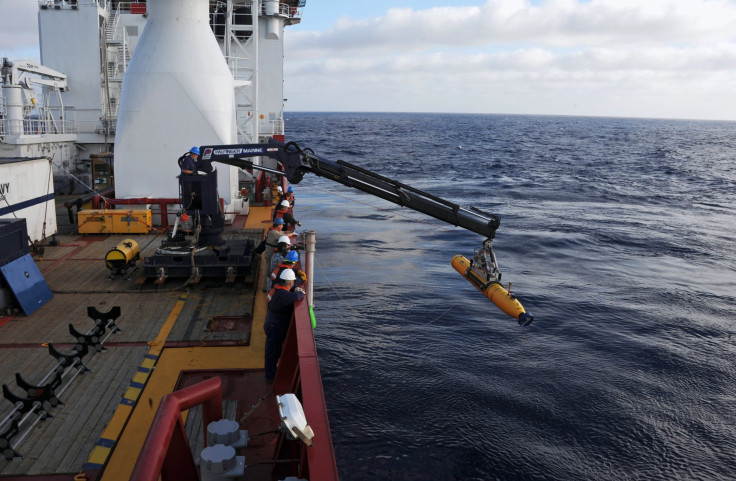 After a two-month break, the Australian Transport Safety Bureau says it is ready to resume the underwater search for Malaysia Airlines Flight MH370 after considering bids from private contractors capable of conducting deep-water searches. Officials say the hunt is likely to begin in early September and could take up to a year to complete.
The $56 million endeavor will involve scanning some 60,000 square kilometers, or 23,000 square miles, of ocean floor using various search apparatus, including robots known as underwater autonomous vehicles, or UAVs. Investigators will use the information gleaned from these probes to make detailed topographical maps of the seabed, an environment that scientists know less about than they do the surface of Mars.
The Australian Transport Safety Bureau, tasked with carrying out search efforts for MH370 at the request of the Malaysian government, announced in June it would hire a private contractor to handle the day-to-day operations. The Bureau will select among bids from companies that specialize in deep-water surveillance, including offshore oil-and-gas companies, research institutions and even private treasure hunters, according to the Wall Street Journal.
"Engaged as a prime contractor, the company will provide the expertise, equipment and vessel(s) necessary to undertake an intensified underwater search for the missing Boeing 777 aircraft," the Bureau said in June. The search will require UAVs to scan regions up to 6,000 meters, or 3.7 miles, underwater. Search teams previously used UAVs to look for the wreckage.
Five months have passed since the Boeing 777-200ER disappeared, having presumably crashed into the Indian Ocean 1,100 miles west of Perth, Australia. MH370 left Kuala Lumpur for Beijing on March 8 carrying 239 passengers and crew; ground control lost contact with the aircraft just an hour after takeoff.
There were fears that the recent downing of another Malaysia Airlines flight, Flight MH17, in Ukraine, would overshadow search efforts in the Indian Ocean, but Australian officials have insisted that is not be the case. "I want to assure the families of those on MH370 that we have not forgotten the importance of maintaining the search for that aircraft. We are continuing that search uninterrupted,'' Deputy Prime Minister Warren Truss told reporters in Darwin, Australia, earlier this month.
© Copyright IBTimes 2023. All rights reserved.
FOLLOW MORE IBT NEWS ON THE BELOW CHANNELS