Missing Sailors From C-2A Greyhound Crash Identified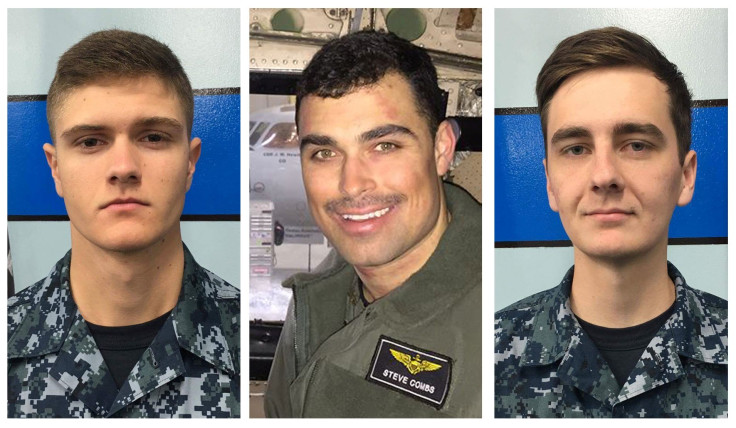 The United States Navy on Saturday identified Lt. Steven Combs, Aviation Boatswain's Mate (Equipment) Airman Matthew Chialastri and Aviation Ordnanceman Airman Apprentice Bryan Grosso as the three sailors who went missing after an aircraft carrying 11 crew members and passengers crashed in the Philippine Sea, Wednesday. The others on board were rescued, a release on the official website of Commander, U.S. 7th Fleet, confirmed.
The navy had ended the search and rescue operations for the sailors Thursday, a statement on the website said. The three sailors were aboard a C2-A Greyhound aircraft that crashed into the ocean southeast of Okinawa, Japan, while en route to the USS Ronald Reagan .
A combined search operation was carried out for two days covering nearly 1,000 square nautical miles by USS Ronald Reagan (CVN 76) and units from the Japan Maritime Self-Defense Force.
Vice Admiral Phil Sawyer, commander of U.S. 7th Fleet, said, "Our thoughts and prayers are with the families of these Sailors. Their service and sacrifice will be lasting in Seventh Fleet and we will continue to stand the watch for them, as they did bravely for all of us."
Capt. Michael Wosje, Commander, Carrier Air Wing Five (CVW 5) said, "The thoughts and prayers of the entire team onboard Ronald Reagan go out to the families and friends of our fallen shipmates."
He lauded the search team and said, "We are thankful for our professional search and rescue teams and their incredible bravery. The entire Navy team is working together to investigate the cause of this mishap and we will remain focused on our mission to operate forward in a safe and professional manner to ensure peace and stability in the Indo-Asia-Pacific region."
A St. Joseph Central High School graduate , 28-year-old Combs was a native of Florida. He was assigned to the "Providers" of Fleet Logistics Support Squadron (VRC) 30 aboard the USS Ronald Reagan as part of Carrier Air Wing Five and before that he was part of the "Greyhawks" of Carrier Airborne Early Warning Squadron (VAW) 120, the Center for Security Forces Detachment Kittery Point, in Portsmouth, New Hampshire, and Training Wing 4, in Corpus Christi, Texas. He was awarded the National Defense Ribbon and the Navy Battle "E" Ribbon.
Chialastri, a native of Baton Rouge, Louisiana, was a Woodlawn High School graduate. He stood at the position of aviation boatswain's mate, with duties that included preparing and fueling planes prior to take-off and after landing and was assigned to USS Ronald Reagan. Prior to this, his duty stations included USS America (LHA 6), Patrol Squadron Thirty (VP-30), the "Pro's Nest," in Jacksonville, Florida, and the Center for Security Forces Detachment Kittery Point, in Portsmouth, New Hampshire. He was awarded the National Defense Ribbon.
A recent graduate from West Florida High School and a native of Florida, Grosso was also assigned to USS Ronald Reagan. His previous duty stations included the Naval Air Technical Training Center in Pensacola, Florida, and the Naval Recruit Training Center in Great Lakes, Illinois. He was also a recipient of the National Defense Ribbon.
© Copyright IBTimes 2023. All rights reserved.