Mississippi Flash Flooding: Pearl River's Rising Levels To Bring Destruction To Submerged State
KEY POINTS
Pearl River is set to soar 36 feet Tuesday
The river crested to 36.67 feet leading to 2020's historic floods in Jackson
Voluntary evacuations have been ordered
It looks like heavy rains will bring destruction to an already flooded Mississippi in the coming week.
Jackson residents living in areas affected by floods during the 2020 calamity, and those residing in low-lying regions, were asked to voluntarily evacuate and move to a safe spot as Pearl River is expected to rise 36 feet Tuesday.
Gov. Tate Reeves tweeted, "Friends, the Pearl River is expected to rise to flood levels over the coming days."
Jackson mayor Chokwe Antar Lumumba said during a briefing Thursday, "We are calling for voluntary evacuation to take place over the course of this time in the areas that are expected to be affected," according to CNN.
The Pearl River Valley Water Supply District increased the discharge from Barnett Reservoir on Thursday to 45,000 cubic feet of water per second. Reservoir officials were releasing 11,000 cubic feet of water per second Wednesday, after the city experienced heavy rainfalls, marking August as its wettest month.
"Record daily rainfall amounts were set today at Jackson, Meridian, and Vicksburg! In addition to the daily records, Jackson set a new August monthly record at 11.57 inches breaking the old monthly August record of 11.51 inches!" tweeted National Weather Service in Jackson.
The Pearl River is predicted to rise 36 feet on Tuesday, due to the water discharge. Downtown Jackson's tragic flooding in February 2020 happened after the river crested to 36.67 feet. The Pearl River was at 31.9 feet Thursday morning, and flood stage was at 28 feet, reported WAPT.
The amount of water being discharged would be increased to 62,000 cubic feet per second if the lake continues to receive extra water from upstream, said John Sigman, general manager of the Pearl River Valley Water Supply District.
"If we don't, water in the lake will continue to rise, and at a certain point, the water starts spilling over the emergency spillway on the east end of the dam, (which) itself erodes and then all control of the lake is lost."
"Then we would have no prayer mitigating anything, plus, Jackson's water supply would be in danger," Sigman said.
The rising of the Pearl, and the possible flooding will add to the woes of Mississippi's capital city. A section of Highway 489 in Newton County completely washed away, and photos shared by Mississippi Highway Patrol showed a truck and car fallen in the gaping holes left due to flood damage.
Two pressurized cars of a train carrying carbon dioxide derailed and rolled 20-feet into a ditch after the ground under the tracks in Brandon gave away Wednesday. No damages were reported from this event.
Around the same time 31 residents and 11 staff members of the retirement facility, Peach Tree Nursing Home waded through knee-high water as crews worked to rescue them. More than 100 children were rescued from Railroad Daycare Center in Florence, Mississippi.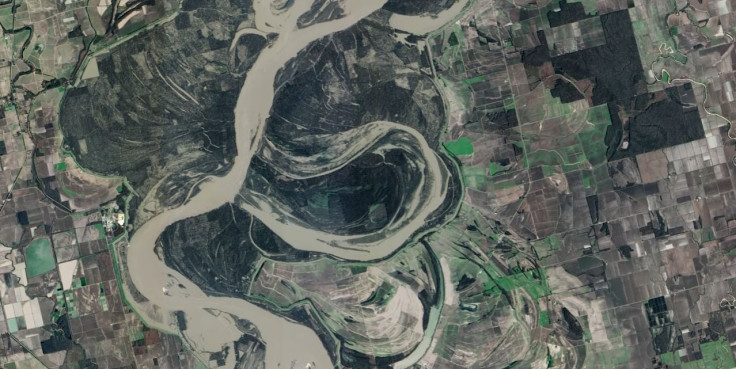 © Copyright IBTimes 2023. All rights reserved.