Monkeys Drag Away 2-Month-Old Baby Sleeping On Terrace, Drown Infant In Water Tank
In a shocking incident in India, a troop of monkeys dragged away a 2-month-old baby after finding the child sleeping in a room on the terrace of a home.
The child died following the attack that occurred Sunday night in the northern state of Uttar Pradesh. The infant, identified as Keshav Kumar, was sleeping next to his grandmother when the monkeys grabbed him and fled the scene, The Times of India reported. The child was allegedly dropped into a water tank, where his body was later found.
The toddler's parents – Prince and Komal – told the local police this was the second time the monkeys had tried to take away their child. The previous attempt had been thwarted by his relatives, who were alerted after the monkeys came into their home.
"We didn't expect them to return like this in the dark. We've lost our child," Komal told The Times of India.
A senior police officer told the media: "After scanning CCTV footage of the area, we found that the monkeys had jumped from the terrace with the child, which was in the arms of one of the simians."
Locals were shocked following the incident and were in a state of disbelief. The people, who live nearby, told the media the monkeys have previously attacked and injured several others, news outlet the Jagran reported [Google Translate showed].
Monkey menace is a grave problem in many parts of India, mostly because of their aggressive behavior.
In 2018, a similar incident took place in the same state where a newborn baby was snatched away by a monkey. The 12-day-old baby was later found on the terrace of a neighbor's house. According to the family, the newborn was on his mother's lap when the monkey snatched him and escaped. The mother was breastfeeding the baby when the incident took place. The family members chased the monkey, but were unable to catch the animal. Later they found the injured baby on a neighbor's terrace. The infant was rushed to a hospital where the doctors declared him brought dead.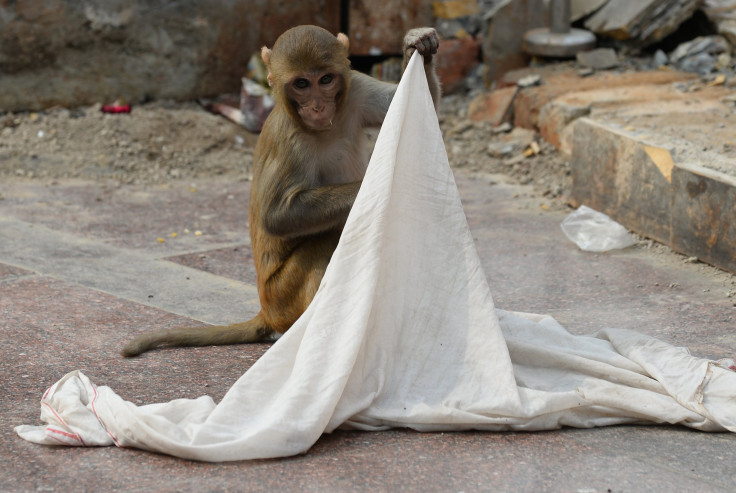 FOLLOW MORE IBT NEWS ON THE BELOW CHANNELS