'Morbius' Trailer Releases, Revealing Possible MCU Connection
Sony just released the first official trailer for its own "Spidey-verse" film "Morbius." The film centers on the eponymous villainous character, played by Jared Leto, who would have been joining Sony's hinted at bad-guy team up, the Sinister Six -- and based on some clues we got from the trailer, some Marvel Cinematic Universe characters might be joining as well.
The trailer (seen above) follows Leto's Michael Morbius, a scientist suffering from a debilitating and life-threatening blood disease. His search for the cure leads him to some strange territory, somehow involving vampire bats as the cure. The result is Morbius turning into a nightmare-inducing bat-like superhuman who "craves" blood.
We see Leto go from a sickly looking scientist, barely able to walk, to a muscular crime fighter. But soon his demeanor changes to something more akin to a creature-feature. Following this reveal, in the final moments of the trailer, we get some strange, unintelligible words spoken by someone offscreen -- then an appearance from Michael Keaton. The actor played Adrian Toomes, AKA Vulture (Michael Keaton), who almost bested Peter Parker (Tom Holland) in "Spider-Man: Homecoming," a co-production from Marvel Studios and Sony.
"What's up, doc?" Keaton's Vulture jokingly says to a passing Morbius. Toomes is wearing the same prisoner getup he wore in "Spider-Man: Homecoming" after he was arrested. Toomes met up with other Sinister Six and Spidey villains in prison: Scorpion (Michael Mando) and Shocker (Logan-Marshall Green).
He is seen in the "Morbius" trailer next to police lights, hinting that Morbius freed him and might be behind the foundation of the Sinister Six.
This connection to the MCU doesn't quite place Morbius in the same cinematic universe as Tony Stark (Robert Downey Jr.) or Scott Lang (Paul Rudd), but rather it places Tom Holland and his rogue's gallery smack-dab in the middle of two separate cinematic universes.
Screenshots from the trailer released just the night before "Morbius" trailer drop reveal Morbius passing by a mural, painting Spider-Man as a murderer. This follows the "Spider-Man: Far From Home" ending, which showed a surprise cameo from J. Jonah Jameson (J.K. Simmons, who reprised his role from the original Sony "Spider-Man" movies with Tobey Maguire) calling back to their original movies, referring to Spider-Man as a murderer.
MCU Cosmic
reports that, not only does Sony and Marvel's new deal let them share characters, but Sony's also allowed to reference MCU events. After all, the existence of these Sinister Six villains revolves around one major MCU moment: the New York city alien invasion.
We will see how much "Morbius" ties into the MCU when the film drops July 31.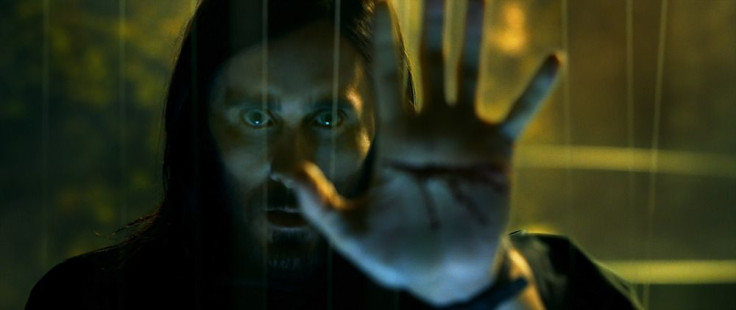 © Copyright IBTimes 2023. All rights reserved.