More Than 100M Americans Under Heat Alerts Or Warnings, Forecasters Predict Hotter Days
KEY POINTS
Temperatures above 90 degrees are expected within the next seven days
About a dozen U.S. locations are expected to see excessive heat till Tuesday next week
Some parts of Europe are also experiencing extreme temperatures
More than 100 million people in the United States have been placed under heat advisories and extreme heat warnings as experts project record-breaking temperatures to ensue within the next seven days. Europe is also experiencing extreme temperatures.
The NWS Weather Prediction Center said Tuesday that "dangerous and record-breaking heat is forecast across much of the south-central U.S. today and is expected to linger through much of this week." The agency added that "over 100 million people are currently within heat related warnings and advisories."
Aside from heat-related alerts, it is expected that more than 80% of the U.S. population will see temperatures above 90 degrees through the next seven days, CNN reported.
NBC Broadcast Meteorologist Bill Karins said several areas in Oklahoma experienced 115 degrees Tuesday afternoon. Earlier Tuesday, Dallas, Texas broke the daily record high of 108 degrees in 2018 when it recorded temperatures of 109 degrees. In Arizona's Phoenix, temperatures hit 110 degrees Tuesday.
In Massachusetts, Wednesday is expected to be "bright & hot," local WWLP reported. ABC 13 Chief Meteorologist Travis Herzog noted that Texans who aren't under a heat advisory Wednesday are "under an excessive heat warning." Herzog said they are expecting "temperatures to again top" 105 degrees."
From Friday through Tuesday next week, forecasters are expecting "excessive heat" in some parts of the following locations:
Central Rockies
Southwest
Central Great Basin
Tennessee Valley
Lower Mississippi Valley
Southern Appalachians
Central Plains
Southern Plains
Middle Mississippi Valley
Ohio Valley
Southeast
Mid-Atlantic
Outside the U.S., Europe is also experiencing extreme temperatures as heat waves ripple across the globe. In the United Kingdom, a new provisional record of 104.5 degrees was reported Tuesday, NBC reported. The U.K. previously set a record high of 101.6 degrees in 2019.
Over in France, experts are warning about the extremely high temperatures. Meteorologist Francois Gourand said the heat wave in southwestern France "will be a heat apocalypse."
Speaking with CNN earlier this week, a climate scientist at Princeton University, Gabriel Vecchi, said scientists have observed a trend in recent years that hot temperatures are outpacing cold temperatures, adding that the imbalance in temperature records further points to the global climate crisis.
"It's fair to think that almost every heatwave that we see right now has some influence from global warming," Vecchi said.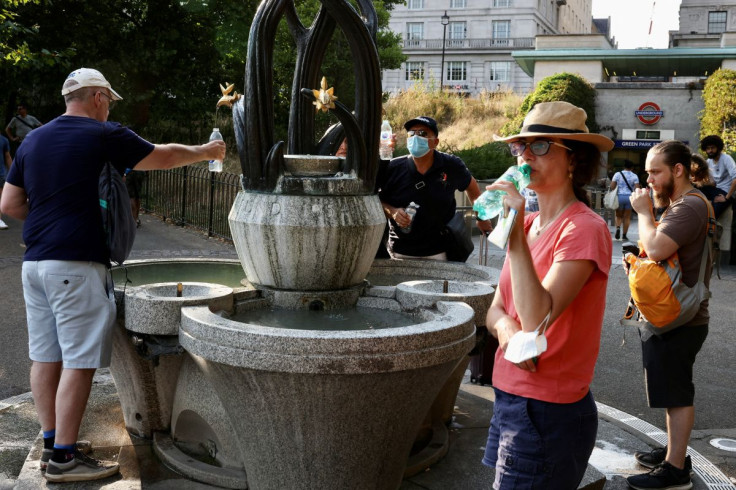 © Copyright IBTimes 2023. All rights reserved.