More US Ground Troops In Afghanistan? Mattis Says Taliban 'Surging' In War-Torn Country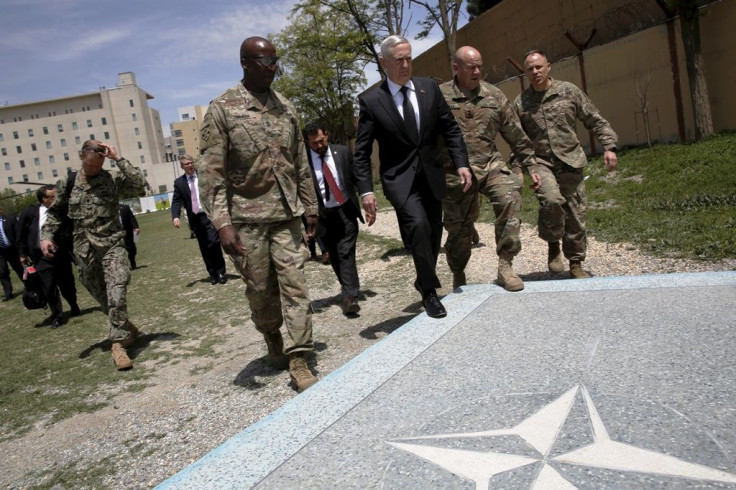 Amid speculation whether the U.S. will send more troops to Afghanistan, Defense Secretary James Mattis told the Senate Armed Services Committee in a testimony Tuesday, militant group Taliban is "surging" in the war-torn country and that the U.S.-backed forces are "not winning in" Afghanistan.
Current troop levels stood at 8,400. In February, the commander of the U.S.-led military forces in Afghanistan, Gen. John W. Nicholson, said "a few thousand" additional troops were required to train Afghan soldiers.
Read: Afghanistan Calls For Additional US Troops To Combat Taliban, ISIS
"We are not winning in Afghanistan right now and we will correct this as soon as possible," Mattis said in his testimony. He added the Taliban were "surging" despite 15 years of war, stating that he planned to address the issue.
In a bid to add more troops, the Defense Department will need more money than the already fixed budget of over $600 billion for next fiscal year, Mattis said during the testimony.
"The commander on the ground [Nicholson], in light of the situation, has asked for more," Mattis said. "Those discussions are ongoing right now with the president, and myself and the chairman [Joint Chiefs Chairman Gen. Joseph Dunford] advising him. The decision will be taken soon."
A Bloomberg report on May 17 said the U.S. would be required to send at least 50,000 troops to tackle Taliban, as per a new Afghanistan war strategy approved last month by President Donald Trump's top military and national security advisers. Sources told the news outlet the strategy was drafted in April and gave estimates necessary troop strengths for different strategic options.
However, Mattis dismissed the report saying: "I give no credibility to a report about 50,000 troops. That's somebody's flight of fantasy." He also said he will likely brief the committee on a new Afghanistan strategy by mid-July.
"I believe by mid-July we will be able to brief you in detail," the defense secretary said. "We are putting it together now and there are actions being taken to make certain we don't pay a price for the delay."
Read: US Drops 'Mother Of All Bombs' On ISIS Complex In Afghanistan
Meanwhile, Trump gave authority to Mattis to make decisions on a number of armed forces to be deployed in the war-torn country, Reuters and CNN reported Tuesday, citing officials. Mattis will reportedly not be required to get a formal approval from the White House before doing so.
However, Mattis will have to keep Trump fully briefed on his decision on the troop levels, an official told CNN. The Pentagon did not make any decision about the troop levels, Reuters reported, citing a source.
Officials said the U.S. is thinking about sending about more 3,000 to 5,000 troops to train and support Afghan forces.
Taliban's attacks have spiked in recent months. On June 10, three U.S. soldiers were killed and one was wounded by an Afghan soldier in eastern Afghanistan. The attack was claimed by the militant group. The attack took place in Nangarhar province's Achin district, which is home to a U.S. Army base. A similar insider attack took place in March in Helmand province wounding three U.S. soldiers.
© Copyright IBTimes 2023. All rights reserved.
FOLLOW MORE IBT NEWS ON THE BELOW CHANNELS