Morgan Stanley Says Warned on $6 billion Mortgage Debt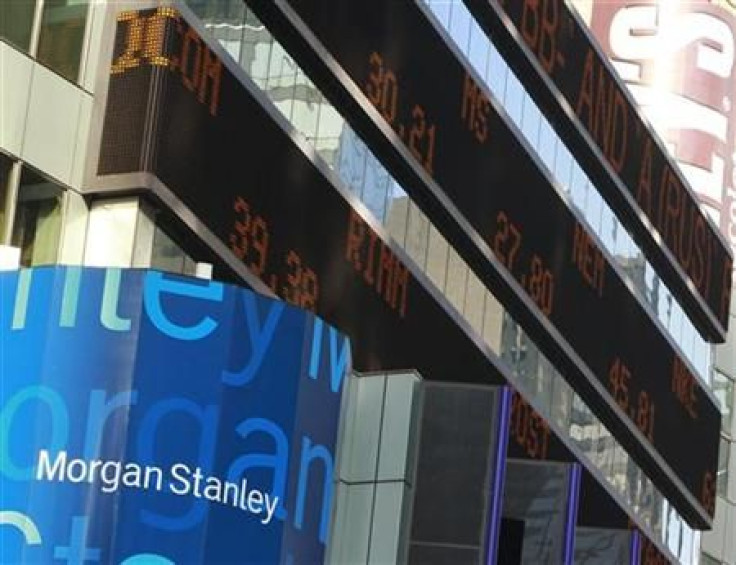 Morgan Stanley said a group of investors believes the bank may have sold defective mortgage bonds contained in more than $6 billion of trusts, signaling that it may face litigation over its involvement.
Gibbs & Bruns, a law firm representing the investors, alleged in a letter received on October 18 that a large number of residential mortgage-backed securities issued by trusts that the bank sponsored or underwrote was based on false or fraudulent information, the bank said in its quarterly report.
The law firm also accused Morgan Stanley of failing to prudently service mortgage loans in the trusts, the filing said.
A Morgan Stanley spokeswoman declined to comment. A Gibbs & Bruns lawyer did not immediately return a request for comment. Morgan Stanley revealed the letter's contents in a discussion of legal proceedings that could prove material.
Gibbs & Bruns is the same law firm that spearheaded a proposed $8.5 billion nationwide investor settlement with Bank of America Corp over losses tied to mortgages by the former Countrywide Financial Corp.
That accord requires court approval, and is being handled by a Manhattan federal judge after many investors not involved in the negotiations questioned its fairness.
The letter represents just the latest legal headache for Morgan Stanley in the aftermath of the financial crisis.
In its quarterly report, Morgan Stanley also outlined six class-action lawsuits and a dozen other legal matters.
Lawsuits are piling up for large banks before statutes of limitation for potential civil claims on subprime mortgage products expire.
Morgan Stanley said it has entered tolling agreements with potential litigants to forgo statutes of limitation on a case-by-case basis. Companies can enter such agreements in an attempt to settle, rather than be forced to rush to court.
Investors represented by Gibbs & Bruns collectively hold at least 25 percent of the voting rights in the 17 mortgage trusts discussed in the October 18 letter, Monday's filing said. That is the required benchmark for taking significant legal action for breach-of-contract lawsuits.
(Reporting by Lauren Tara LaCapra and Jonathan Stempel in New York, editing by Matthew Lewis)
© Copyright Thomson Reuters 2023. All rights reserved.
FOLLOW MORE IBT NEWS ON THE BELOW CHANNELS