Mother Grabs Huge Deadly Snake With Bare Hands To Save 2-Year-Old Child's Life
A woman in India saved her 2-year-old child who was crawling toward a huge deadly snake by grabbing the reptile with her bare hands.
The incident took place Saturday in the eastern state of Odisha. The woman and her husband were scared when their child had gone very close to an 8-foot-long king cobra that was slithering around, Times Now reported.
The child's father, identified as Akil Munda, picked up his son and jumped out of the window of their home. The woman, identified as Sasmite Gochhait, did not panic and grabbed the venomous snake with her hands.
"As soon as I saw my baby crawl towards the cobra I grabbed him and jumped out the window to call officials. We went to call range officer Krishna Gochhait and told him about the incident. He rushed home with me," Munda told Asia News International.
"I and my husband rushed to the village. It was the first time I have caught the King cobra inside a house. We released it in its habitat. I am very thankful to the forest department and range officer who helped us in this situation," Gochhait said. The woman said that this was the first time she had ever touched a snake.
"I rescued it and released it in its habitat with the help of the forest department and Range Officer," she added, ANI reported.
King Cobra, one of the most venomous snakes, are shy and will avoid humans whenever possible, according to the National Geographic. However, their bite can be fatal for humans.
In a recent incident, a family in Rajasthan was shocked to see an 8-foot-long cobra slithering out of their toilet. The snake was first spotted by a man who went inside the bathroom to freshen up. The family immediately called the police, and notified them about the reptile. Snake catchers arrived at the scene and found the reptile sitting on the toilet seat. It was then removed from the house. The snake rescuer who removed the reptile told local media that he also received a call about another cobra in the kitchen in the nearby house. The incident left residents of the area in panic as they were scared more reptiles may be in the vicinity. They urged the forest department to find a solution.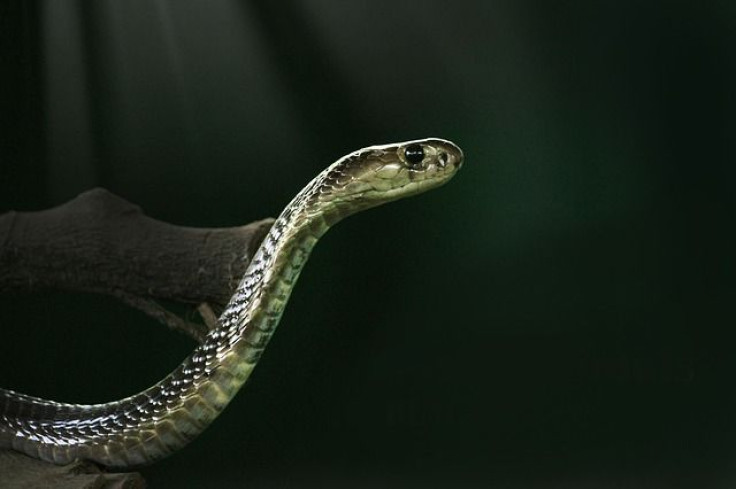 FOLLOW MORE IBT NEWS ON THE BELOW CHANNELS