Movies Coming Out In April 2016: Over 15 Theatrical Releases To Watch On Spring Break [VIDEO]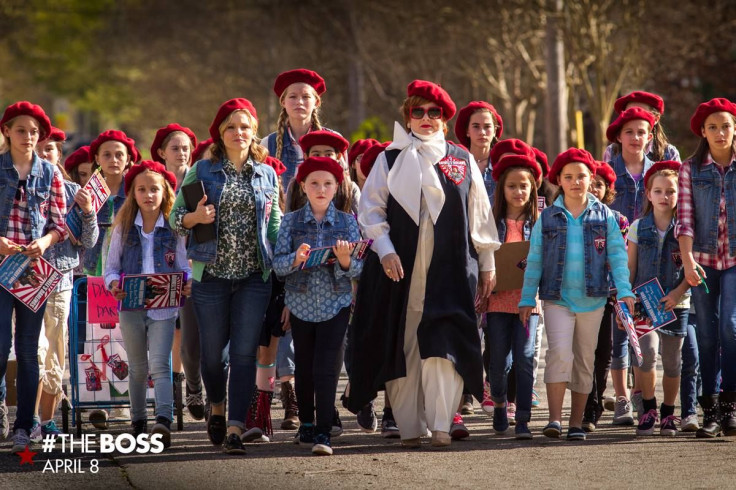 April is the month of movies. As the weather gets warmer, movie studios are starting to release bundles of their highly anticipated films. From inspirational tales, to comedy and horror, there are plenty of features scheduled to debut next month. Before your hit the theaters over spring break, check out the trailers and plot summaries for these 16 movies.
April 1
"Meet the Blacks" — Just when you thought you'd seen enough of "The Purge" movies, director Deon Taylor bring you this spoof. The comedy follows the Black family who, after coming into money, move into an affluent neighborhood only to be targeted in the annual Purge, a day in which all crime is legal for 12 hours. Mike Tyson, Zulay Henao and Mike Epps star.
"Kill Your Friends" — Based on John Niven's novel, the film follows Stelfox (Nicholas Hoult) as he tries to live and work in the "nightmare" music industry. When he discovers one of his colleagues will be fired in the coming year, he does whatever it takes to keep himself safe — even murder.
"Natural Born Pranksters" — YouTube is headed for the big screen. Online pranksters Roman Atwood, Vitaly Zdorovetskiy, Dennis Roady and Kevin Brueck lead this 90-minute comedy. Featured skits include everything from a tanning bed prank to tricking Chinese restaurant patrons into making believe they're eating stray dogs.
April 8
"Hardcore Henry" — Get ready for a front row seat to the action. "Hardcore Henry" is told through the eyes of a man who is brought back from the dead and has no memory, but goes on a quest to save his wife.
"The Boss" — Melissa McCartney brings her comedic chops to the big screen with this R-rated comedy. McCartney stars as a successful businesswoman who is sent to prison after dabbling in insider trading. Broke and fresh out of the slammer, she moves in with her former employee Claire (Kristen Bell) and her daughter where they work together to create their own Brownie empire. Peter Dinklage and Kathy Bates also star.
"Before I Wake" — A couple looking to overcome the loss of their son fosters a young boy with a shocking and disturbing gift. Kate Bosworth, Thomas Jane and "Room" star Jacob Tremblay lead this Mike Flanagan thriller.
"Demolition" — After losing his wife in a car crash, Davis (Jake Gyllenhaal) does everything in his power to ease the numbness he feels, including reaching out to the vending machine company that failed to dispense his favor snack to him in the hospital. Naomi Watts stars as Karen, the customer service rep who tries to ease his pain.
April 15
"The Jungle Book" — Several A-listers will bring this classic Disney tale to life. Neel Sethi stars as Mowgli alongside voice actors Scarlett Johansson (Kaa), Idris Elba (Shere Khan), Christopher Walken (King Louie), Ben Kingsley (Bagheera) and Bill Murray (Baloo).
"Barbershop: The Next Cut" — The gang from Calvin's Barbershop is back. When Calvin Palmer (Ice Cube) notices their town is crumbling around them, he uses the shop to save the neighborhood and boost morale. Common, Anthony Anderson and Nikki Minaj also star in the sequel.
"Colonia" — Lena (Emma Watson) finds herself at Colonia Dignidad, a violent and religious cult-like camp, while searching for her lost boyfriend Daniel (Daniel Brühl). Michael Nyqvist portrays the group's leader, Paul Schäfer. The historical drama is directed by Florian Gallenberger.
April 22
"The Huntsman's: Winter's War" — Get ready for a "Snow White and the Huntsman" sequel without star Kristen Stewart. Chris Hemsworth returns as The Huntsman in this prequel, which will follow his quest to defeat villain Ravenna (Charlize Theron). Emily Blunt plays a "Frozen"-esque character and Snow White's mother, Freya.
"Elvis & Nixon" — If you're already finished binge-watching the latest season "House of Cards," consider catching Kevin Spacey as President Richard Nixon in "Elvis & Nixon." The film is inspired by a famous photograph of the former POTUS and the rock star from 1970. Michael Shannon plays the "Unchained Melody" singer and actor.
"A Hologram for the King" — Lost in his life, American businessman Alan Clay (Tom Hanks) heads to Saudi Arabia in the hopes of selling his idea for a 3D meeting service to the king. What he finds during his trip is a new sense of purpose, thanks to a nurse (Sarita Choudhury) he meets along the way.
April 29
"Keanu" — The poster for this R-rated comedy may be of a sweet, little kitten, but "Keanu" is far from a kid's movie. After Jordan Peele's character is dumped, he finds happiness in a lost kitten, which he names Keanu. When his new pet goes missing, he enlists the help of his friend, played by Keegan–Michael Key, to confront the gang members that took him.
"Mother's Day" — The Gary Marshall comedy brings together four moms on the annual celebration of Mother's Day. Julia Roberts takes on the role of a famous talk show host who employs Sandy (Jennifer Aniston), a divorced mother of two. Jason Sudeikis, Kate Hudson, Shay Mitchell and Britt Robertson also star.
"A Beautiful Planet" — See the world from a different point of view. Oscar-winning actress Jennifer Lawrence narrates this IMAX feature.
Which movies are you planning to see in theaters in April? Share your viewing plans in the comments section below or tweet your thoughts to @RebeckaSchumann.
© Copyright IBTimes 2023. All rights reserved.