Movies Coming Out In March 2016: 17 Theatrical Release Dates And Trailers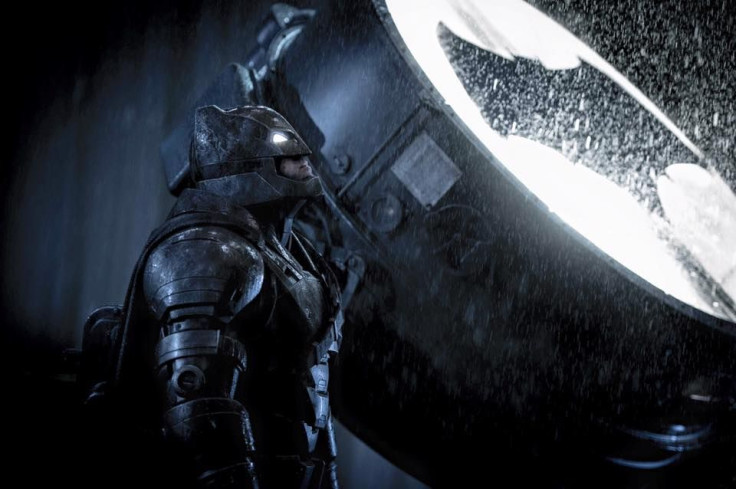 It's the beginning of a new month, which means there's going to be several chances to take a trip to the movies and catch one of the upcoming theatrical releases. Luckily for popcorn enthusiasts, there's a lot of new flicks debuting in March 2016.
Whether your plan is to bring a date to a romantic comedy or finally watch two iconic superheroes come to blows, Hollywood has you covered this month. To help you plan your trips to the theater, below is a rundown of all the movies being released in March:
"Knight of Cups" (March 4)
Christian Bale, Cate Blanchett, Natalie Portman and Brian Dennehy star in this romantic drama about a screenwriter trying to come to grips with the strange life he's built for himself in Los Angeles. It's a portrait of life in Hollywood's excess and packs an all-star cast that merit the cost of admission by themselves.
"London Has Fallen" (March 4)
Gerard Butler, Morgan Freeman and Aaron Eckhart star in the sequel to the 2013 action film "Olympus Has Fallen." Like last time, Mike Banning (Butler) must rescue the U.S. president and a slew of other world leaders in London to attend the Prime Minister's funeral. When a group of terrorists mount an attack on the attending world leaders, it's up to him to stand alone against them.
"The Other Side of the Door" (March 4)
Sarah Wayne Callies and Jeremy Sisto star in this horror flick about a grieving mother that goes on a dangerous supernatural journey to bring her young son back from the dead. When she breaks the rules of god and men to do so, she finds herself stuck in a nightmarish journey to restore the balance between life and death.
"Whiskey Tango Foxtrot" (March 4)
Tina Fey stars in this comedy about a young journalist who volunteers to do some in-the-field reporting covering the war from Afghanistan and Pakistan to escape her less-than-stellar life in the U.S.
"Zootopia" (March 4)
This one is perfect for the kids as it features a world run by various animals one would find in a zoo. When a fugitive con artist, who happens to also be a fox, and a rookie cop, who also happens to be a bunny rabbit, discover a conspiracy, they're forced to join forces to put a stop to it. Boasting an all-star cast of celebrity voice actors, this movie is sure to get the little movie fans excited.
"10 Cloverfield Lane" (March 11)
A follow up to the 2008 found-footage movie "Cloverfield," this new film takes a distinctly different tone. Shot in a traditional manner, it follows a young woman who wakes up after a car accident to find that she's in the basement of a man that claims he's rescued her from a chemical attack that's left the outside world uninhabitable.
"Grimsby" (March 11)
When a world-class spy, played by Mark Strong, is forced to team up with his football hooligan brother, played by Sacha baron Cohen, he finds that saving the world is a significantly more difficult task. Written by Cohen, the mind behind comedies like "Borat" and "Bruno," this film promises both action and laughs.
"The Perfect Match" (March 11)
What happens when a relationship that was meant to be casual ends up becoming much more? That's the topic that this film explores with its young and talented cast. Led by Terrence Jenkins and Paula Patton, the film is perhaps the perfect date movie for the month of March.
"Young Messiah" (March 11)
Based on the book "Christ the Lord: Out of Egypt" by Anne Rice, this biblical drama stars Sean Bean and tells the story of Jesus Christ at the age of seven as he and his family make their departure from Egypt to return home to Nazareth.
"Miracles From Heaven" (March 16)
Based on a true story, Jennifer Garner stars as the mother of a very sick girl. After doctors inform her that her daughter is terminal, she leans on her faith for a solution. Soon after, her daughter falls out of a tree and, in what can only be described as a scientific miracle, finds herself cured when the dust settles.
"The Divergent Series: Allegiant" (March 18)
The third installment in the "Divergent" franchise will see returning characters Beatrice Prior (Shailene Woodley) and Tobias Eaton (Theo James) venture outside the protective fence that surrounds their world. When they do, they find themselves at the mercy of a mysterious agency known as the Bureau of Genetic Welfare.
"Midnight Special" (March 18)
Adam Driver, Michael Shannon and Kirsten Dunst stars in this science fiction adventure in which a father helps his young son go on the run after it's revealed that the boy has special powers. However, with many people looking for them and the child's powers growing more unstable every day, their adventure's stakes go through the roof.
"The Bronze" (March 18)
"The Big Bang Theory's" Melissa Rauch stars as a foul-mouthed former Olympian that won a bronze medal. She was the biggest name in sports around her community, but when a new youngster gets on the scene and starts stealing her spotlight, she has to figure out a way to get it back.
"Batman v. Superman: Dawn Of Justice" (March 25)
Perhaps the most highly anticipated movie of 2016, the two biggest names in DC Comics will battle it out in order to set up the expanded comic book film universe that will eventually lead to "The Justice League." Wonder Woman (Gal Gadot) and Aquaman (Jason Mamoa) will be introduced as well.
"The Disappointments Room" (March 25)
This thriller, starring Kate Beckinsale and written by "Legends of Tomorrow" and "Prison Break" star Wentworth Miller, focuses on a mother and son who release something evil from the creepy attic in their rural suburban home.
"I Saw The Light" (March 25)
"Avengers" stars Tom Hiddleston and Elizabeth Olsen reunite in this biopic about country-western singer Hank Williams. The film chronicles both his rise to fame and the burdens that his health and personal life put on his illustrious career.
"My Big Fat Greek Wedding 2" (March 25)
The original cast returns in the follow up to the 2002 comedy hit "My Big Fat Greek Wedding." This time, when a family secret ripples through the Portokalos family, they come back together for yet another gigantic wedding.
What movie are you most excited to see next month? Comment below or tweet your thoughts to @TylerMcCarthy.
© Copyright IBTimes 2023. All rights reserved.