MSNBC, Fox News Marco Rubio Town Hall Live-Stream: How To Watch GOP Presidential Candidates In Tonight's Free Broadcasts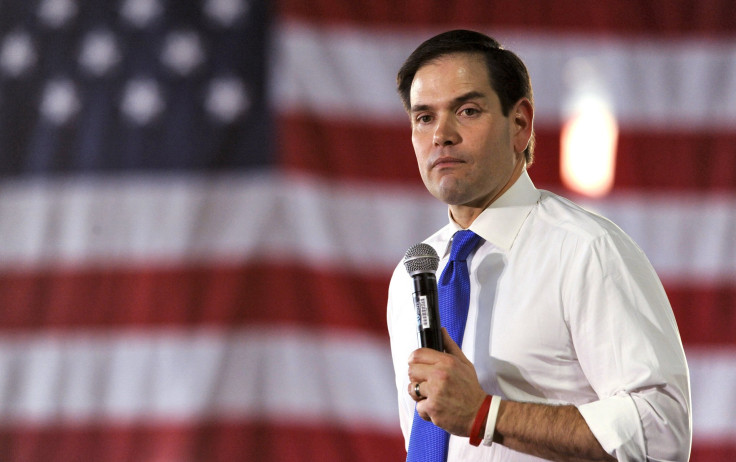 UPDATE: 8:40 p.m. EST — Florida Sen. Marco Rubio doesn't want to be vice president and regrets picking a fight with Donald Trump. "In terms of things that have to do with personal stuff, yeah, at the end of the day it's not something I'm entirely proud of. My kids were embarrassed by it, and if I had to do it again I wouldn't," Rubio said during a MSNBC town hall Wednesday night.
Original story:
Candidates in the Republican presidential field are expected to canvass cable news airwaves with town hall appearances Wednesday evening while the Democrats meet for their second debate in four days. Those not interested in catching former Secretary of State Hillary Clinton and Vermont Sen. Bernie Sanders on CNN can flip back and forth between Fox News and MSNBC to catch the remaining four GOP hopefuls in one-on-one Q&As.
Florida Sen. Marco Rubio, whose candidacy could end if he doesn't come out victorious in the March 15 winner-takes-all primary in his state, is scheduled to sit down with "Meet the Press" moderator Chuck Todd at 8 p.m. EST at Florida International University in Miami. To watch a live stream of Rubio's town hall, click here.
Billionaire real estate mogul Donald Trump, who led Rubio in Florida by as many as 8 points in recent primary polling, is scheduled to appear with Fox News host Sean Hannity on the campaign train in Fayetteville, North Carolina, at 10 p.m. EST. Hannity's program will include interviews with Trump and questions from a live audience, Deadline Hollywood reported.
Ahead of Trump, Ohio Gov. John Kasich is scheduled to appear on Fox News with the host of "On the Record With Greta Van Susteren" from Chicago at 7 p.m. EST. Kasich is expected to take questions from Van Susteren, members of the live audience and viewers at home, presumably through social media.
Fox News' "The Kelly File" host Megyn Kelly is expected to be at a campaign event for Texas Sen. Ted Cruz in North Carolina. Kelly will interview Cruz in front of a live audience at 9 p.m. EST. Attendees will also get to ask Cruz questions.
Kelly is scheduled to be back on the air at 11 p.m. EST for an interview with Rubio, his second cable news appearance of the night. To watch live streams of all five hours of Fox News' town hall programming, click here.
Republican Party Presidential Candidates | InsideGov
© Copyright IBTimes 2023. All rights reserved.