Marco Rubio's Campaign Sells #NeverTrump, #DumpTrump Apparel Despite Promise To Support Trump As Nominee
Each of the Republican presidential candidates was asked during Thursday's debate if they would support Donald Trump if he is the party's nominee, and they all said they would. However, it appears that one candidate and his campaign store are not necessarily on the same page.
Florida Sen. Marco Rubio, who has taken to viciously attacking Trump in recent days, is selling apparel and stickers with the hashtag #NeverTrump on his campaign website, despite his promise during the debate to support Trump if he is the party's nominee.
The #NeverTrump hashtag became popular on Twitter over the last week as mainstream Republicans rose against Trump, with many promising they would never support the New York billionaire as their party's nominee. After Trump's delay in disavowing support from the Klu Klux Klan and his success on Super Tuesday, an anti-Trump super PAC ramped up its efforts, holding a conference call with big donors Tuesday and hiring a former Jeb Bush spokesman in preparation for a more serious effort to hurt Trump in the next round of primary voting.
While Rubio — and fellow candidate, Texas Sen. Ted Cruz — spent most of the debate leveling attacks at Trump, he still said Thursday he considers Trump a better option than either Democratic choice.
"I'll support the Republican nominee. I'll support Donald if he's the Republican nominee, and let me tell you why," Rubio said. "Because the Democrats have two people left in the race; one of them is a socialist. America doesn't want to be a socialist country — if you want to live in a socialist country, then move to a socialist country. The other one is under FBI investigation; and not only is she under FBI investigation, she lied to the families of the victims of Benghazi. And anyone who lies to the families of the victims of the people who lost their lives in the service of their country can never be the commander in chief of the United States. We must defeat Hillary Clinton."
Still, the Florida senator's campaign posted a #NeverTrump instagram before the debate and tweeted a photo of its #NeverTrump offerings during the debate. Rubio's campaign store sells stickers, signs and bracelets emblazoned with #NeverTrump, as well as a hat in the style of Trump's signature "Make America Great Again" caps.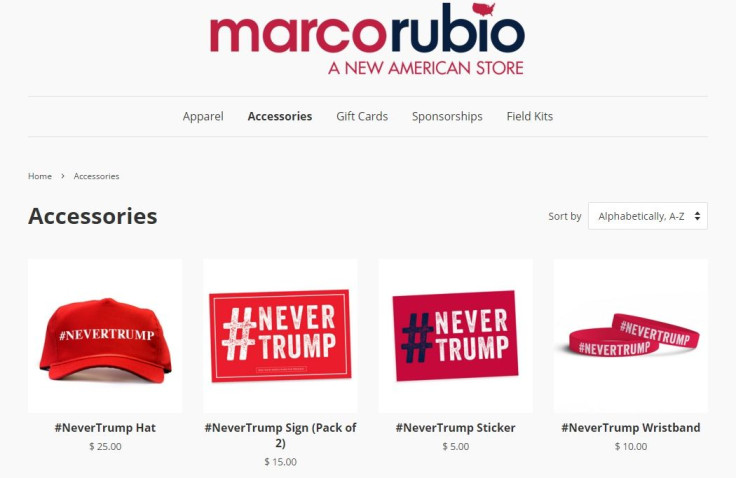 But even beyond these items, Rubio's team also unveiled a new "product" bashing the Republican front-runner while the debate was happening. At one point during the Fox News spectacle, Trump said he was "flexible" on policy issues and Cruz chided Trump by telling him to "breathe," so Rubio interrupted, asking, "When they're done with the yoga, can I ask a question?"
His campaign took advantage of this to market #DumpTrump yoga pants, calling the senator's joke "the moment of the night." It turns out the pants are not actually for sale, as the yoga pants product page of Rubio's website reads: "Note: you won't actually get #DumpTrump yoga pants, but your $10 donation will help Marco stop him." But the idea is still quite different than his pledge to support Trump if he becomes the party's nominee.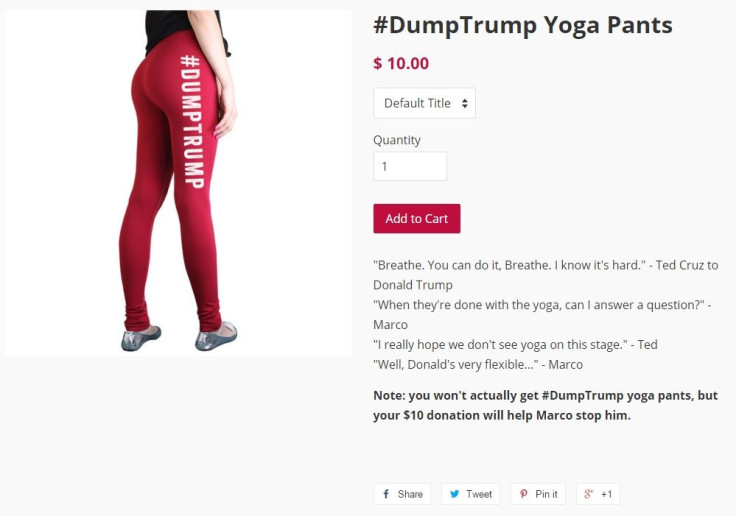 For their part, the other presidential candidates do not sell explicitly anti-Trump gear in their campaign stores. Cruz has a "Make Trump Debate Again" hat, referencing the debate Trump skipped before the Iowa caucuses, while Ohio Gov. John Kasich — who has stayed out of the fray and avoided personal insults about other candidates — only sells items with his own name on them.
At this point, Trump is well on his way to having the number of delegates that are needed to win the Republican presidential nomination, but Rubio still hopes to stop The Donald and gain more momentum by pulling out a win in his home state of Florida, which votes March 15. In most recent Florida polls, Trump still leads Rubio in the Sunshine State, which means Rubio will have more work to do if he hopes to catch the front-runner in his home state.
© Copyright IBTimes 2023. All rights reserved.