Murdoch, Brooks Face Police Questioning over Hacking - LIVE VIDEO
Watch live video of Tuesday's News of the World hearings.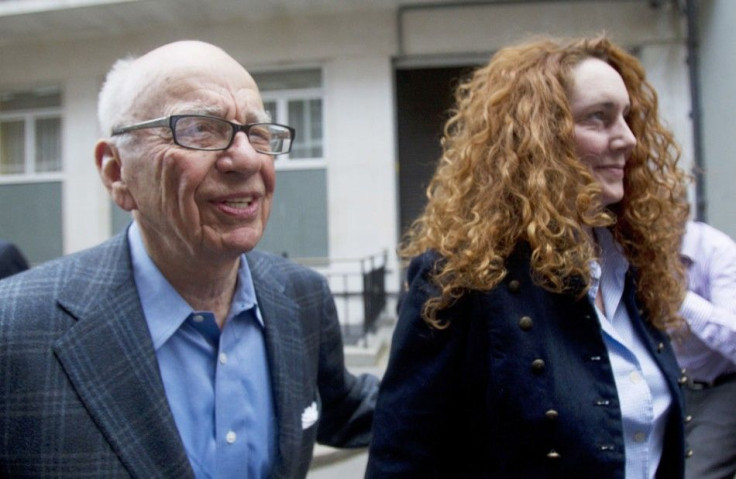 Rupert Murdoch, his son James, and Rebekah Brooks will sit before the Home Affairs Committee in London Tuesday morning, answering questions from British MPs regarding their knowledge of and involvement in the phone hacking scandal that brought down News of the World.
The BBC is streaming the entire police conference live. Watch it here.
The British news agency is also live blogging the whole event, starting with Sir Paul Stephenson's testimony, which began at 6 a.m. Stephenson is formerly the Metropolitan Police Commissioner. He resigned on Sunday, saying that his police investigation did not take the News of the World case seriously enough.
Here is the full schedule of Tuesday's Home Affairs Committee hearings (Eastern Standard Time):
6:00 - Home Affairs Committee to hear from Sir Paul Stephenson
7:15 approx - John Yates to appear before Home Affairs Committee
8:30 - Culture, media and sport committee to question Rupert and James Murdoch
9:30 - Committee to question Rebekah Brooks
11:30 - Home Affairs Committee to question director of public prosecutions Kier Starmer
12:00 - His predecessor Lord Macdonald to appear
12:20 - Mark Lewis, the solicitor representing the Dowler family, will face questions
It is interesting to note that Rebekah Brooks' testimony will be the longest. Brooks resigned from her job as chief executive of Murdoch's News International and was arrested over the weekend.
Brooks has repeatedly denied knowing about the phone-hacking and police-bribing that was occurring while she was editor of News of the World, but her arrest over the weekend might belie her claims.
Former News of the World reporters insist that not only did Brooks know of the unsavory practices that were going on, she endorsed them.
It was no place for anyone to pipe up and say: 'This doesn't seem ethical to me.' That would have made you a laughing stock, one journalists told Reuters.
Andy Coulson, both a former News of the World editor and former aide to Prime Minister David Cameron, will not appear before the Committee. He was arrested earlier this month.
John Yates is the former Assistant Commissioner of the Metropolitan Police. He resigned on Monday over the hiring of former News of the World executive editor Neil Wallis.
The hacking scandal has saddened and outraged many in England and around the world. The investigation started when the Royal Family suspected someone was hacking into employees' voice mails. More shocking, however, are allegations that the News of the World was listening to and deleting the messages of the families of victims from the July 2007 terrorist attack on the London subway, as well as the families of 9/11 victims.
© Copyright IBTimes 2023. All rights reserved.