'Mushoku Tensei: Jobless Reincarnation' Part 2, Episode 14 Live Stream: How To Watch Online [Spoilers]
KEY POINTS
Rudeus is imprisoned by members of the Beast Tribe
"Mushoku Tensei: Jobless Reincarnation" Episode 14 is airing Saturday
The episode will stream on Funimation
Rudeus Greyrat is captured by the Beast Tribe due to a misunderstanding. Now, he is hoping Eris and Ruijerd Superdia will come and save him in "Mushoku Tensei: Jobless Reincarnation" Episode 14. The new episode is titled "No Such Thing As A Free Lunch."
The official website has released the spoiler stills and synopsis of Episode 14. Geese, who is part of the Demon Tribe, is also kept in the same cell with Rudeus.
Geese is serving jail time for cheating in gambling. Meanwhile, Rudeus is trying to find ways to escape prison with Geese.
In the previous episode, Roxy Migurdia, Talhand and Elinalise Dragonroad were looking for Rudeus and the others. But while searching for clues, Roxy heard rumors about Dead End.
Roxy told Elinalise that Dead End was a real person and they needed to be careful. However, she reminded them of their mission, which was to find Zenith, Aisha, Lilia and Rudeus.
Meanwhile, Roxy was looking forward to meeting Rudeus after a long time.
The second half of the episode showcased Rudeus and Ruijerd's attempt to free the kidnapped children. However, Rudeus was captured by members of the Beast Tribe.
"When a 34-year-old underachiever gets run over by a bus, his story doesn't end there. Reincarnated in a new world as an infant, Rudy will seize every opportunity to live the life he's always wanted. Armed with new friends, some freshly acquired magical abilities, and the courage to do the things he's always dreamed of, he's embarking on an epic adventure—with all of his past experience intact!" read the official series synopsis, according to Funimation.
The cast of "Mushoku Tensei: Jobless Reincarnation" anime includes Yumi Uchiyama as Rudeus Greyrat, Ai Kayano as Eris Boreas Greyrat, Toshiyuki Morikawa as Paul Greyrat, Lynn as Lillia Greyrat, Daisuke Namikawa as Ruijerd Superdia, Konomi Kohara as Roxy Migurdia, Ai Kakuma as Eris Boreas Greyrat, Ai Kayano as Sylphiette, Hisako Kanemoto as Zenith Greyrat, Kengo Kawanishi as Almanfi, Kenjiro Tsuda as Orsted, Kujira as Man-God, Megumi Toyoguchi as Ghislaine Dedoldia, Rikiya Koyama as Perugius Dola, Yuka Iguchi as Kishirika Kishirisu and Binbin Takaoka as Sauros Boreas Greyrat.
Fans can watch "Mushoku Tensei: Jobless Reincarnation" Episode 14 online on Funimation. The episode will live stream in Japanese with English subtitles Sunday.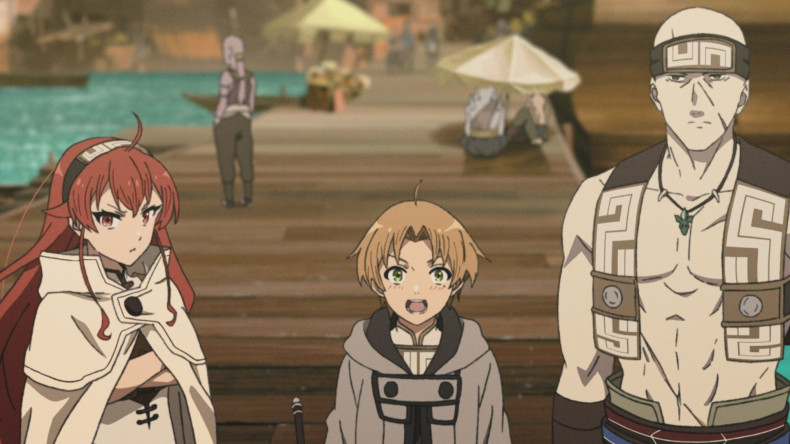 © Copyright IBTimes 2022. All rights reserved.