'My Hero Academia' Season 4 Episode 19 Live Stream Online; Band Practice For School Festival
KEY POINTS
The heroes of Class 1-A prepare for the cultural festival
There will be a band practice featuring Jiro and others
Gentle Criminal and La Brava are planning something
After the stressful Shie Hassaikai arc, the heroes will take some time off and relax in the school festival arc. "My Hero Academia" Season 4 episode 19 will showcase the band practice of Class 1-A.
This article contains spoilers from 'My Hero Academia' Season 4 episodes.
U.A. Academy, a hero school, organizes the annual cultural festival in order to showcase the talent of the students. The event is usually open for all. However, the threat of villains is still lurking and this time it is a student only function.
Meanwhile, in the upcoming episode, fans will witness the band in the shed practising for the event. It is decided that they will belt out songs and club it with a dance performance. Kyoka Jiro, also known as Earphone Jack, comes up with the rock band performance idea.
Meanwhile, in the previous episode, Mina Ashido shows off her extraordinary breakdance skills that prove that this could be her thing. Izuku Midoriya believes Ashido must be able to fight well because of her exceptional breakdance moves. He explains that she uses her whole body in all her movements. Midoriya asks Ashido if she could teach him some moves. But he fails terribly. Dancing is her hobby but she can use it for her heroic activities. Talking about hobbies, Jiro's room is filled with musical instruments proving that she is the best when it comes to helping others prepare for the rock performance. It has to be seen how others match up to her musical skills.
However, the upcoming school festival might get the attention of villains and evil forces. "My Hero Academia" Season 4 episode 19 will reveal Gentle Criminal and his partner La Brava. It will be interesting to see the heroes rock out some cool numbers and fans are treated with new songs in this season.
"My Hero Academia" Season 4 episode 19 can be watched online on Crunchyroll. This episode is called "Prepping for the School Festival is the Funniest Part."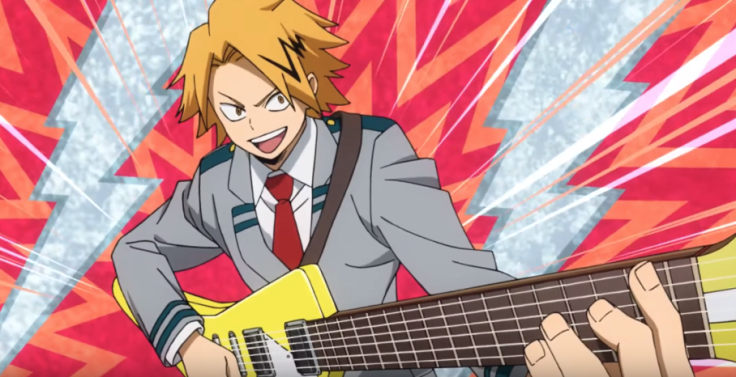 © Copyright IBTimes 2023. All rights reserved.