Mychal Kendricks Sends Rihanna A Message On '106 & Park': Will Rihanna Date The NFL Player? [VIDEO]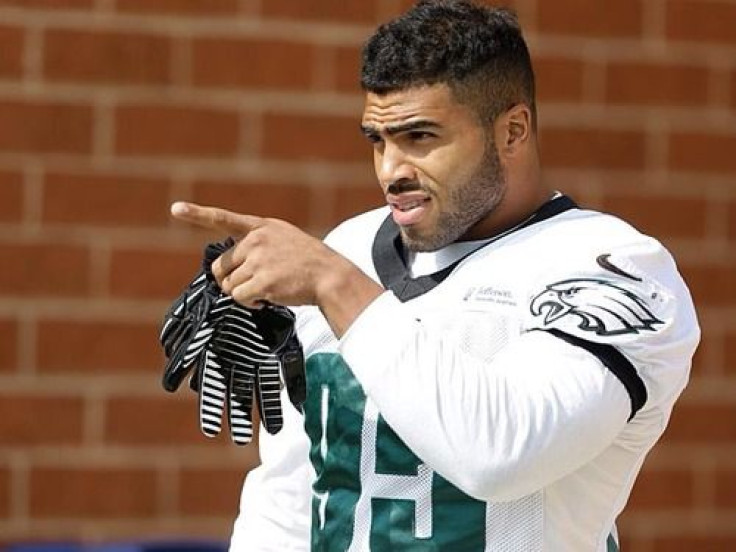 Mychal Kendricks is in New York for Super Bowl Sunday, and he wants Rihanna to know that. The 22-year-old NFL player stopped by BET show "106 & Park" for "Super 106 Week," and was unable to avoid questions from hosts Bow Wow and Keshia Chante about the Barbadian beauty.
Rihanna made Kendricks a bigger name than he already is earlier this month, after naming him her crush. While the 22-year-old NFL player is already on a well-known sports team, the Eagles, the number of followers he accrued on social media increased tremendously after the superstar posted a picture of him, naming him her "man crush" on social media platform Instagram. On Mondays people can post pictures on Instagram of their male crush under the hashtag "MCM."
The singer posted a photo of Kendricks along with the photo caption, "Is it Monday? Cuz chhh…#MCM [sic]." Most of the ladies on Instagram agreed with her choice, with one commenter writing, "He is absolutely beautiful..He is my Monday thru Sunday Crush!!"
While on BET, Bow Wow asked Kendricks if he wanted to reach out to Rihanna on the live show. He seemed to be caught off guard, and simply said that he was in New York, apparently implying that he and Rihanna should meet up since she is currently in the city as well to promote MAC Viva Glam.
Days prior, Kendricks told Fox 43 in Philadelphia that he was "flabbergasted" about the interest from Rihanna. "It was cool and very flattering. If she sees this…then hey." He was then asked if she can give him a call. "If she has my number. I've been trying to reach out but…" he said, trailing off.
"His Twitter and Instagram is going off the chain because of that," teammate and Eagles cornerback Brandon Boykin added. "I think he should reach out. I don't know what his situation is relationship wise, so I hope I'm not disrespecting anybody but like you said, it's Rihanna. We'll see what happens."
© Copyright IBTimes 2023. All rights reserved.