Myuran Sukumaran Art: Bali Nine Inmate Paints Indonesian President's Portrait Ahead Of Execution [PHOTOS]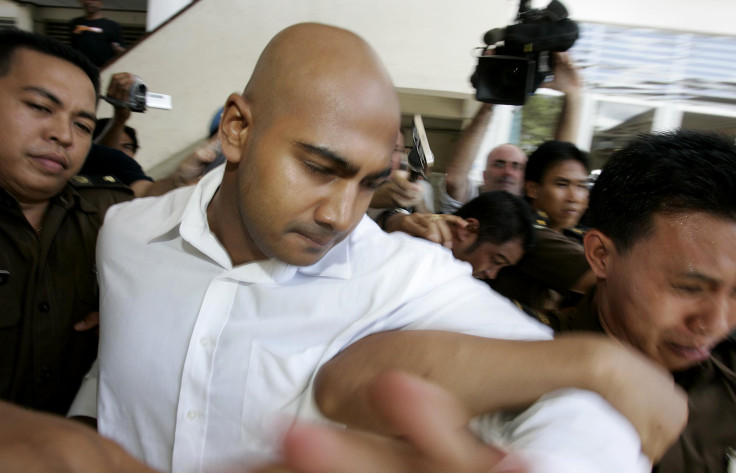 Australian prisoner Myuran Sukumaran, who was sentenced to death in Indonesia for drug trafficking, made a personal appeal to President Joko Widodo to spare his life by painting a portrait of the leader. Sukumaran signed the back of the picture with a simple message: "People can change." He had never painted before his crime, but under the tutelage of a mentor, he eventually earned a degree in art and began teaching art workshops for fellow inmates.
The portrait of Widodo is Sukumaran's most recent work, which he began in January after learning his request for presidential clemency had been denied. He finished his oil-on-canvas work in the final weeks before he was transferred from Kerobokan Prison in Bali to the Nusakambangan Island where he and Andrew Chan, another Australian citizen from the Bali Nine group, are scheduled to be executed.
During the
transfer
, Sukumaran, 33, brought along a sketch book and pencils while Chan took a bible. Their execution has been
delayed
pending outstanding legal reviews, which could be completed as early as this week. Both inmates had hopes for a life outside of prison. "I accept what I did was wrong and I know that I should be punished for it, but I do think the death penalty is too excessive, and I should be given a chance," Sukumaran said in a documentary by Karen Gall, News Corp. of Australia reported.
"I've demonstrated that I can do good and be good and I think I can do a lot of good in the outside if I did ever go free you know," Sukumaran said. "It's not like I'm ever just going to go back after all this and just sit and just be somewhere. I'd want to do stuff like work and make good stuff and help people, that's what I'd be hoping to do." Gall made her documentary available as Sukumaran's and Chan's execution date approached.
Sukumaran described how he did not do much in his first five years of incarceration, but eventually picked up art, mentored by Australian war artist Ben Quilty. Quilty first visited Sukumaran in 2012 and immediately saw his talent. "As all stereotypes fall away, Myuran has done a horrible thing -- but that's a long time ago," Quilty told RN Breakfast,
Australian Broadcasting Corp
. reported. "He's a very quiet, very big, very well respected man in the prison. He helps run a very tight ship with his art room." Sukumaran earned his associate degree in fine arts from Curtin University in Perth in late February.
An exhibition and auction of Sukumaran's and other prisoners' artworks from the Kerobokan jail is planned for Friday night in Bali, and the Widodo portrait was expected to be displayed, News Corp. said. The exhibition will feature art from Sukumaran and the inmates he taught in the past few years.
As Sukumaran and Chan await the firing squad in Nusakambangan, Australian Prime Minister Tony Abbott is trying his best to rescue the two inmates. Abbott has been attempting to reach Widodo, and was waiting for an answer. "I appreciate that we have given this subject a pretty good thrash," Abbott told reporters in Kalgoorlie Tuesday,
Agence France-Presse
reported. "I'm keen to talk to him again but, in the end, I [only] can request. He may or may not accept."
Indonesian officials said the executions will go on no matter what and have called on Australia to
stop pressuring them
.
© Copyright IBTimes 2023. All rights reserved.
FOLLOW MORE IBT NEWS ON THE BELOW CHANNELS