NAACP Blasts Phil Robertson Over 'Racist' Remarks In New 'Duck Dynasty' Row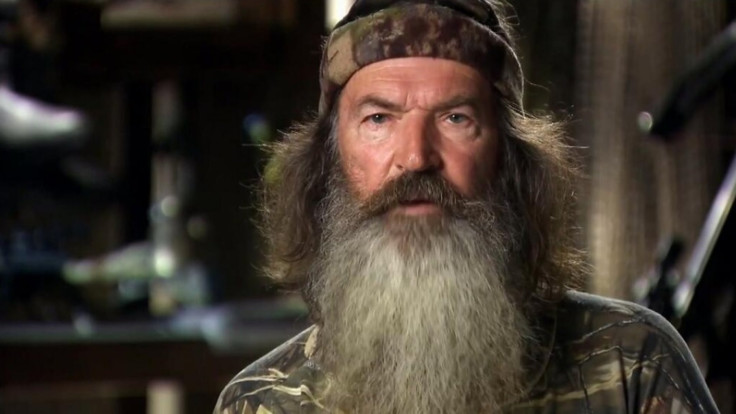 Things keep getting worse for Phil Robertson, a star of the hit A&E reality TV show "Duck Dynasty."
On Wednesday he was suspended by the network as anti-gay comments he made in a controversial interview with GQ for an article in its January edition drew outrage from many, including gay-rights groups like GLAAD, who were offended by his homophobic remarks.
Now he is getting heat from groups including the National Association for the Advancement of Colored People (NAACP) and the Human Rights Campaign (HRC) for racially insensitive comments he made in the same GQ interview.
Here are the racially insensitive comments, which suggest he believes that black people in pre-civil rights-era Louisiana were not treated badly, that have offended many:
"I never, with my eyes, saw the mistreatment of any black person," Robertson told GQ writer Drew Margary. "Not once. Where we lived was all farmers. The blacks worked for the farmers. I hoed cotton with them. I'm with the blacks, because we're white trash. We're going across the field.... They're singing and happy. I never heard one of them, one black person, say, 'I tell you what: These doggone white people'—not a word!... Pre-entitlement, pre-welfare, you say: Were they happy? They were godly; they were happy; no one was singing the blues."
The NAACP and HRC were offended by the remarks, and they sent a joint letter on Wednesday to A&E that is drawing wide attention for calling out both the racially insensitive and homophobic comments Robertson made in the article, calling them "racist, homophobic and ill-informed." Here's a portion of the letter:
"As you may know, Phil attacked both African Americans and LGBT people in a recent GQ interview (January 2014) – saying that African Americans were happier under Jim Crow laws, and equating being gay with bestiality and promiscuity," the groups wrote, adding, "These remarks go beyond being outlandishly inaccurate and offensive. They are dangerous and revisionist, appealing to those in our society who wish to repeat patterns of discrimination ... Mr. Robertson claims that, from what he saw, African Americans were happier under Jim Crow. What he didn't see were lynching and beatings of black men and women for attempting to vote or simply walking down the street."
A portion of the anti-gay comments in question is quoted below:
"Don't be deceived. Neither the adulterers, the idolaters, the male prostitutes, the homosexual offenders, the greedy, the drunkards, the slanderers, the swindlers -- they won't inherit the kingdom of God. Don't deceive yourself. It's not right," Robertson told GQ. "It seems to me, a vagina -- as a man -- would be more desirable than a man's anus," he explained. "That's just me. I'm just thinking, 'There's more there! She's got more to offer.' I mean, come on, dudes! You know what I'm saying? But hey, sin: It's not logical, my man. It's just not logical."
Those remarks drew harsh rebukes from GLAAD and other equality organizations, which contributed to A&E's decision to suspend Robertson indefinitely on Wednesday. Here's what GLAAD spokesman Wilson Cruz had to say about the controversy:
"Phil and his family claim to be Christian, but Phil's lies about an entire community fly in the face of what true Christians believe ... Phil's decision to push vile and extreme stereotypes is a stain on A&E and his sponsors who now need to reexamine their ties to someone with such public disdain for LGBT people and families."
A&E has not set a timeline for deciding when or if Robertson will return to "Duck Dynasty," but it appears that he has a lot of explaining to do if he hopes to be back on TV anytime soon, though many of his fans and supporters have defended him and called for boycotts of A&E and signed petitions calling for him to be reinstated.
© Copyright IBTimes 2022. All rights reserved.
FOLLOW MORE IBT NEWS ON THE BELOW CHANNELS