'Narcos' Netflix Release Helping Streaming Service Expand To Latin America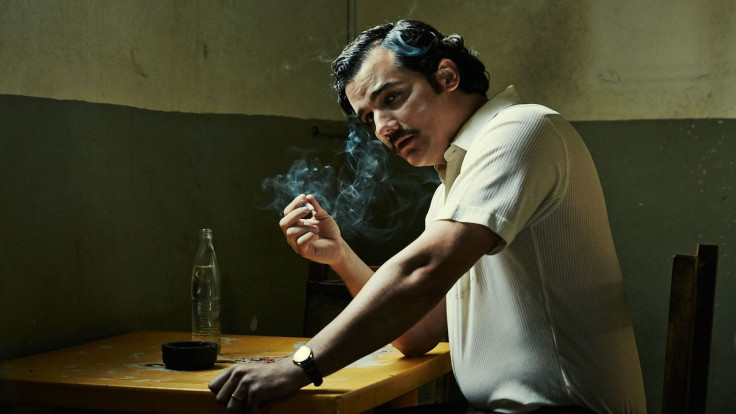 Two hundred countries by 2017 -- that's Netflix's stated goal for global expansion, and last month it unveiled its secret weapon: "Narcos," a crime drama told in both English and Spanish and designed to appeal to audiences in the U.S. and across Latin America.
"Narcos," which debuted Aug. 28 , tells the origin story of the cocaine epidemic in the United States, starting in the 1980s. It's a cross-border tale that follows the ascent of Pablo Escobar from small-time pot exporter in Medellin, Colombia, to the man who got the world's most powerful nation hooked on the white stuff. Netflix was hooked from the start, renewing the series for a second season Sept. 3.
The series is largely done in voice-over, but when characters speak they do so in the language they would speak in real-life. Escobar and his band of narcotraficantes speak Spanish. Miami DEA agents, of course, speak English. Subtitles mean it can easily be adapted to both English- and Spanish-speaking audiences.
"Narcos" is part of Netflix's larger push into the Spanish-speaking world including "Club de Cuervos," its first scripted Spanish-language show, and "Las Leyendas," the company's first Latin America-produced animated show, which debuts in 2017. It's a bet that Pablo Escobar can do in Latin America what Francis Underwood ("House of Cards") and Piper Chapman ("Orange Is the New Black") did for Netflix in the U.S.
"It's like colonization," said Dr. Danny Shipka, assistant professor at Oklahoma State University School of Media and Strategic Communications. "Netflix is trying to colonize the world before anyone else does."
Video Streaming Services by User Base | SoftwareInsider
From December 2011 to September 2014, its subscriber base in Latin America increased 1,456 percent, growing from 309,000 to 4.8 million, Netflix said. That number is expected to grow to 7.7 million by the end of the year, said Simon Murray, principal analyst at Digital TV Research. The company is launching in Spain in October.
The United States may boast a substantially larger subscriber base, but it's growing at a snail's pace in comparison. In December 2011, the U.S. had 20.2 million subscribers and reached 36.3 million in Sept ember 2014, an 80 percent increase. To continue growing its Latin American (and global) subscriber base, Murray said, "Netflix and its competitors have to ensure a steady output of exclusive content and original, often local language, content."
Of course, these shows don't just appeal to viewers in Latin American countries. Fifty-four million Hispanics live in the increasingly bilingual U.S., amounting to 17 percent of the population, according to the U.S. Census Bureau. Research by ThinkNow shows 63 percent of 18- to 24-year-old Hispanics in the U.S. watch TV via Netflix.
It only follows that a show like "Narcos" holds wide appeal in the U.S., as well as abroad. "The younger [U.S.] generation grew up in a bilingual world," Shipka said. "They're used to the mixture of English and Spanish."
Paul Verna, analyst at eMarketer, said Netflix doesn't have to think "market-by-market." Instead, it can create a variety of content with different aims in mind. He called "Narcos" a "gateway drug," a show that might entice consumers in Spain and Latin America to purchase subscriptions while retaining American viewers.
All of this content can reach viewers in those 200 countries, which is increasingly important as the market at home grows ever more crowded with the likes of iTunes, Amazon Prime, Hulu and HBO Now. Murray said Netflix is expected to spend $7 billion on content in 2016, both on original productions and on fees to content owners, and it has added about a billion to its content spending every year since 2013.
"Netflix faces much more competition in the United States than it did two years ago," Verna said. "So I think it's only logical to look elsewhere."
Indeed, the global push may be the latest iteration of Netflix itself. "They've reinvented themselves three times," he said, citing its origin as a DVD-by-mail subscription service, its second life as a streaming television provider, and its current iteration as a creator.
As Shipka said, "Television's a whole new ballgame, and Netflix is on top."
© Copyright IBTimes 2023. All rights reserved.