National Ice Cream Day 2016 Freebies: 13 Places To Find Deals And Discounts On Dessert Sunday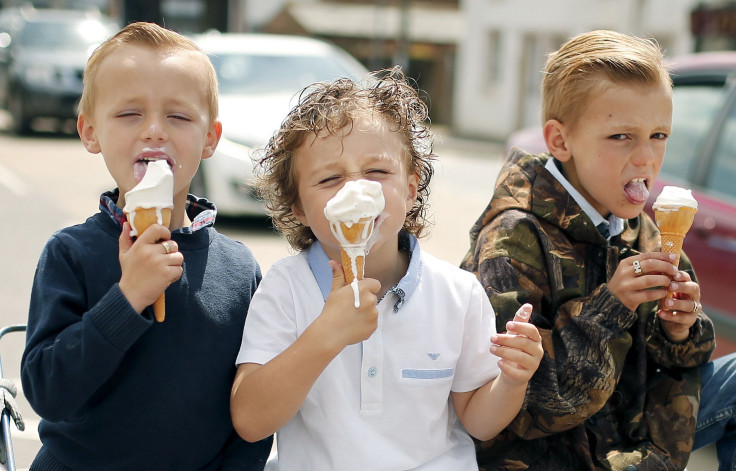 It's cold, it's creamy, and on Sunday, it's free. Sunday is National Ice Cream Day, a food holiday with a presidential endorsement — Ronald Reagan created the event in 1984 — and a ton of deals.
Reagan, in his proclamation setting aside a day in July for what he declared "the perfect dessert and snack food," said he called upon Americans "to observe these events with appropriate ceremonies and activities." So... we need to eat.
Luckily, you can score a cone without breaking the bank. Here are 13 ice cream deals, collected from GO Banking Rates, Twitter and Refinery29:
At Carvel, customers can buy any soft ice cream cone or cup Sunday and get one free. (Carvel also did a survey for National Ice Cream Day and found that 26 percent of people bite into their ice cream. Weird.)
Cumberland Farms just launched a new line of ice cream sandwiches that cost $2.49. But you can score one for free with the purchase of any 20-ounce Pepsi or Mountain Dew drink through Sept. 6.
Dogs deserve dessert, too. PetSmart PetsHotel locations are giving away free cups of dog-safe ice cream Sunday. That same day, the company will also debut its Doggie Ice Cream Truck in New York City.
Monkey Joe's, which has locations in Alabama, Connecticut, Florida, Illinois, Massachusetts and Virginia, among other states, will have free ice cream, prizes and giveaways all day long.
Check out the Strong, or the National Museum of Play, in New York to nab a free coupon for a Louie's cone on Sunday.
Ice Cream Delight in Delaware will give customers free sprinkles on Sunday.
In New York City, the Grand Bazaar is distributing free Häagen-Dazs ice cream from 10 a.m. - 5:30 p.m. EDT Sunday.
At Baskin Robbins, the true day to celebrate is July 31. Stores will give out scoops for $1.31 for the company's birthday. If you want to stop by this Sunday, as well, they're donating $0.75 of every float sold to the any float to the United Service Organizations.
Friendly's is running its Sprinklefest, which means single scoops for $1.99 and double scoops for $2.99. Join the e-club to get $1 off two ice cream cartons, as well.
At Otto's Cones Point in Vermont, play mini golf and get a free small cone on Sunday.
Print this coupon for $0.50 off a box of Luigi's Real Italian Ice.
At Walmart, buy Häagen-Dazs and get a free Redbox movie through Monday.
This isn't for Sunday specifically, but in general — sign up for Dairy Queen's Blizzard of the Month to get BOGO treats. Dairy Queen is also offering $5 lunches that include sundaes.
© Copyright IBTimes 2023. All rights reserved.