Nelson Mandela's Grandson Shocked By Prince Harry's Speech, Didn't Find Parallels Between Sussexes, Grandfather
KEY POINTS
Nelson Mandela's grandson Ndaba Mandela joined Piers Morgan in the latest episode of "Piers Morgan Uncensored"
Ndaba admitted he wasn't aware that Prince Harry was making the keynote speech for the UN assembly until Friday
Mandela's grandson didn't find any parallels between his grandfather and the Sussexes because they had different struggles
Prince Harry making the keynote speech for Nelson Mandela International Day was a surprise to the late political leader and activist's grandson, Ndaba Mandela.
Ndaba joined Piers Morgan on "Piers Morgan Uncensored" and discussed Prince Harry's speech at the United Nations assembly on Nelson Mandela Day. During the interview, the host asked Ndaba if he knew Prince Harry was making the keynote speech.
"I didn't know to be honest," Ndaba replied. "I only found out Friday when I was speaking to one of your producers. I was quite surprised, I must say, yeah. But like I said, as long as it's something of substance in relation to our grandfather's values that he would like to implement, I don't see the problem."
Morgan mentioned Prince Harry and Markle's biography "Finding Freedom," written by Omid Scobie and Carolyn Durand. The host asked Ndaba if he saw any parallels between the Duke and Duchess of Sussex and his late grandfather, considering the former South African president's "long walk to freedom" in their battle for freedom.
"Of course not, there are no parallels," Ndaba said after laughing. "Because you'll see, one is obviously fighting for the dignity of Black people against a vicious tyrant like apartheid as opposed to one finding their own identity outside a said institution."
Ndaba noted that they were "obviously different things" but also acknowledged that "how you define freedom for an individual can be different" before adding that maybe the Sussexes felt they had no freedom when they were in the firm.
Morgan commented that Mandela and the Sussexes indeed have different struggles because the former spent 27 years in prison while Prince Harry and Markle left the palace to reside in a mansion.
"Definitely, two worlds apart," Ndaba agreed. "They cannot be compared on any level."
Morgan praised Mandela for practicing what they preached when they talked about freedom of speech. The host added that "the problem people have with the Duke and Duchess of Sussex is they often, for instance, climate change and carbon footprint and so on, practice a rather a rather different thing to what they're preaching."
Ndaba agreed and said the leaders should be held accountable and "let them put their money where their mouth is."
Several royal experts also reacted to Prince Harry's UN speech. British journalist and biographer Angela Levin said Prince Harry's address got Americans "absolutely furious" because "there's a sort of nonsensical hypocrisy there."
British journalist, writer and commentator Jonathan Sacerdoti also weighed in on the Duke of Sussex's keynote speech. He told Us Weekly he was also not impressed, noting that the 37-year-old royal prince was "literally completely unqualified to have anything important to tell to people."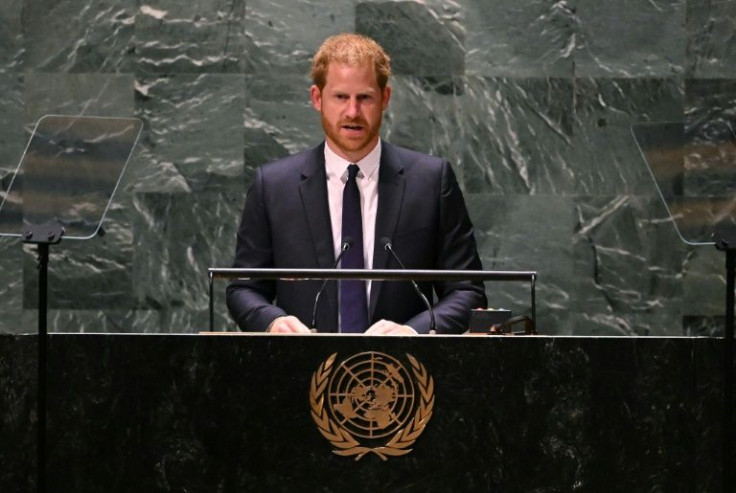 © Copyright IBTimes 2023. All rights reserved.
FOLLOW MORE IBT NEWS ON THE BELOW CHANNELS