Royal Expert Not Impressed With Prince Harry's UN Appearance: 'He's Completely Unqualified'
KEY POINTS
Royal expert Jonathan Sacerdoti explained why he believes Prince Harry's appearance at the United Nations didn't seem appropriate
The journalist said he believes the Duke of Sussex has "no qualifications" to be discussing worldwide issues
He also claimed that Harry's actions were inconsistent with his statement that he doesn't like the attention that comes with being a royal
Prince Harry was "completely unqualified" to speak at the United Nations earlier this week, a royal expert has claimed.
During an interview with Us Weekly, British journalist Jonathan Sacerdoti weighed in on the Duke of Sussex's appearance at the U.N. General Assembly Hall in New York City, where the royal gave a keynote speech Monday for Nelson Mandela Day.
The royal expert told the outlet that he "can't say [he] was surprised" that Prince Harry took the opportunity to speak at the U.N., before criticizing the duke for allegedly using the platform from which he stepped down whenever it serves him.
"I certainly wasn't impressed," Sacerdoti said of the royal speaking at the U.N. "The reason for that is that Prince Harry made out that he really wanted to kind of duck out of this royal circus that he felt he was trapped in."
The royal commentator claimed that Prince Harry's actions were inconsistent with his previous statements.
"Why was he speaking at the U.N.? Because he's Prince Harry, otherwise, without meaning to be too offensive, no one would be interested in a guy who scraped through high school's opinion on world affairs," Sacerdoti continued.
For Sacerdoti, the 37-year-old royal has "no qualifications" to be discussing worldwide issues.
"He's literally completely unqualified to have anything important to tell to people, but instead he's using his position as somebody in the British royal family to spread what he sees as an important message," Sacerdoti claimed.
The broadcaster noted that he was "not disputing whether it's an important message or not," but rather "disputing" the messenger, who had previously said that he doesn't like the attention that comes with being a royal.
"If you want to use the status of being part of that royal family, for what you see as good causes and good ends, you have to obey their rules because that's just kind of polite," he concluded.
During his speech Monday, Prince Harry spoke about Mandela's impact as well as his own sentimental ties to Africa.
However, he also mentioned the spread of misinformation amid the coronavirus pandemic, the war in Ukraine, how climate change is "wreaking havoc on our planet" and the impact of the "rolling back of constitutional rights here in the United States."
Royal biographer and veteran journalist Angela Levin also criticized Prince Harry's speech earlier this week, accusing him of hypocrisy for discussing climate change while allegedly continuing to use private jets. She also claimed that the duke's message took the focus away from Mandela.
"The Americans are absolutely furious with him because how dare an English prince tell them what to do," Levin claimed on GB News.
Despite the criticism, Prince Harry received praise from royal fans on social media for his U.N. speech, with one Twitter user calling it "powerful and moving."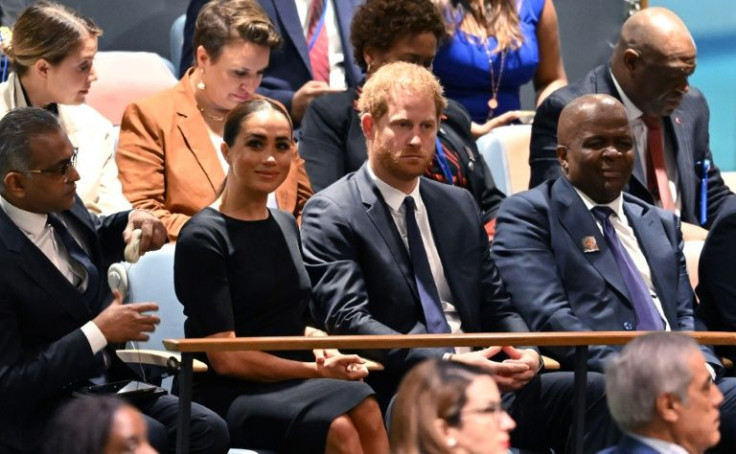 © Copyright IBTimes 2022. All rights reserved.
FOLLOW MORE IBT NEWS ON THE BELOW CHANNELS