'Nemesis' Meghan Markle Loses This Royal Birth Competition To Amy Schumer
The (joke) feud between Amy Schumer and Meghan Markle continues!
Back in October, a week after Markle announced her pregnancy, the "I Feel Pretty" actress photoshopped her and her husband Chris Fischer's faces onto an image of Markle and Prince Harry to announce her own pregnancy.
The two women have been sharing updates about their respective pregnancies over the last seven months, with Schumer often bringing up the "Suits" alum, but the public didn't know the exact due dates for either of their babies, which is why Monday was a really big day.
In the morning, Buckingham Palace revealed Markle had gone into labor, and then, a few hours later, they announced the birth of her and Prince Harry's son. A name was not given and no photos have been released, but his arrival was made public knowledge.
Hours later, Schumer shared an image on Instagram of herself in a hospital bed, holding her newborn son, with her husband kissing her cheek. Her caption, of course, alluded to the Duke and Duchess of Sussex, and their child, and the fact that Schumer's son was actually born first.
"10:55 pm last night," the comedienne wrote. "Our royal baby was born."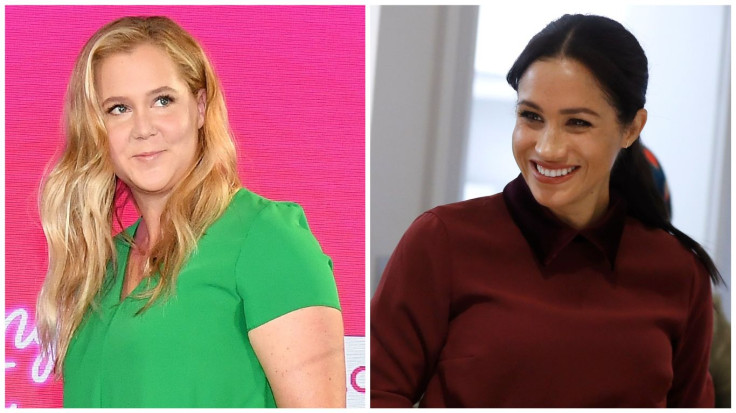 A few months ago, Schumer joked, in a new edition of InStyle's video series, "Woman With Desk & Chair," called "How to Not Give a [Expletive] What Anybody Thinks," about how Markle was her nemesis.
"Everyone is just so narcissistic and obsessed with themselves that they don't even really have time to worry about you," she said in the video. "I'm the same way. So, say someone like, I don't know, my nemesis, Meghan Markle — why is she my nemesis? Because she's pregnant at the same time as me and I'm not letting her get away with that."
She continued: "So, maybe I'm feeling competitive and, 'Oh, Meghan looks better than me and she has a tiny, small bump, and she's wearing high heels, and I already look 10-months pregnant, and I've been wearing flats for the last four years.' [Then] I remember, no one really cares about me, because they really only care about themselves."
Markle might be her "nemesis" because they were pregnant at the same time, but Schumer won in having her "royal baby" boy before Markle. Perhaps the two new baby boys will grow up to be best friends and squash the (joke) feud between the two moms.
© Copyright IBTimes 2023. All rights reserved.