Nepal Earthquake: At Least 65 People Dead In Second Quake; Search For Missing US Helicopter Underway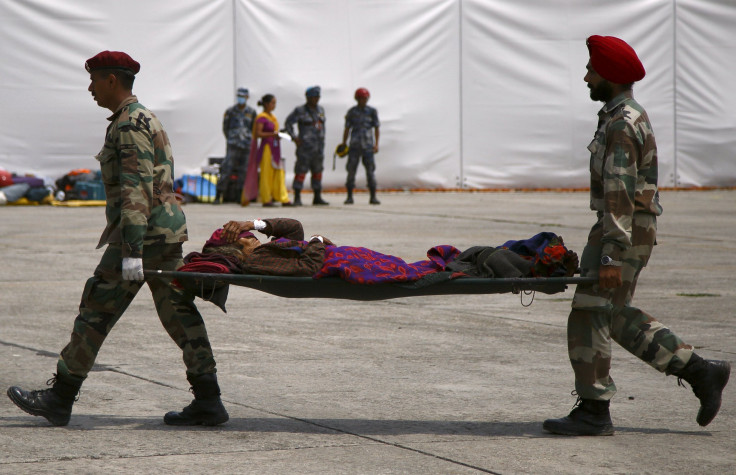 Update as of 5:20 a.m. EDT: Officials urged people in the small town of Chautara, Nepal, to leave damaged buildings a day after a 7.3-magnitude earthquake killed at least 65 people and injured nearly 2,000 in the Himalayan country, according to the Associated Press.
Tuesday's quake, which was followed by several aftershocks battered Chautara, which lies about 22 miles northeast of the capital city of Kathmandu.
Original story:
At least 65 people have been killed and over 1,900 injured after a 7.3-magnitude earthquake struck Nepal on Tuesday. The latest quake comes less than three weeks after a powerful 7.8-magnitude earthquake devastated the country, killing over 8,000 people.
Search-and-rescue work has reportedly resumed after the latest earthquake, which was followed by over a dozen aftershocks that continued through pre-dawn Wednesday. At least two major buildings collapsed in Nepal's capital, Kathmandu, with at least three people rescued from the rubble, according to reports. Tuesday's earthquake also reportedly killed at least 17 people in neighboring India, a country official told CNN.
Meanwhile, a search operation is underway for a U.S. Marine Corps helicopter that went missing Tuesday with six Marines and two Nepalese soldiers on board. The cause of the aircraft's disappearance was not immediately clear, and an investigation is underway into the incident, authorities said.
The U.S. military reportedly said that two helicopters from the same squadron as the missing aircraft set out Wednesday morning to conduct an aerial search. A Nepalese army helicopter is also reportedly searching for the missing aircraft, which had been "delivering humanitarian aid to those affected by the recent earthquake and evacuating casualties back to Kathmandu," the U.S. military reportedly said.
About 300 American personnel are on the ground in Nepal to provide aid and conduct relief efforts following the earthquake on April 25.
© Copyright IBTimes 2023. All rights reserved.