Netflix Estimates Revised at Jefferies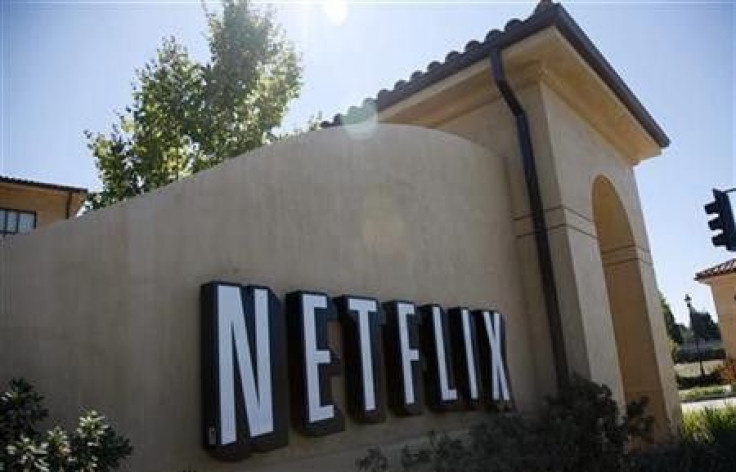 Jefferies is revising its estimates for Netflix Inc. (NASDAQ: NFLX) due to revised guidance and capital raise. The brokerage lowered its price target on shares of Netflix to $75 from $90, while maintaining its hold rating.
We are lowering our 2012 estimates and price target in the wake of Netflix' announcement to sell $200 million of zero coupon convertible notes and $200 million of common stock. Concurrent with the company's S-3 filing, management updated guidance, now expecting consolidated net losses for 2012, versus 'unprofitable for a few quarters' previously, said Youssef Squali, an analyst at Jefferies.
Squali said his revised estimates reflect a combination of lower net subscribers additions, higher selling/marketing spend, and higher content costs.
The company's fiscal 2012 guidance updated (incorporating second half), on form S-3. Management now expects to incur full year 2012 consolidated net losses, specifically noting that quarterly revenue will be relatively flat until the company can achieve positive net sub additions.
Previously, management said it would be unprofitable for a few quarters starting the first quarter of 2012, but shied away from full 2012 guidance. Domestic streaming net adds have been consistent with prior expectations, flat for November and expected to be strongly positive in December.
Netflix entered into an agreement to sell $200 million of zero coupon convertible bonds to Technology Crossover Ventures and about $200 million of common stock, bringing the total capital raise to $400 million. The zero coupon convertible bonds do not bear interest and are scheduled to mature on Dec. 1, 2018.
The initial conversion rate for the zero coupon convertible bonds is 11.6553 shares of common stock per $1,000 principal amount ($85.80 per share conversion price). Conversion of the notes would result in roughly 4.3 percent dilution.
Squali said the convert deal was contingent on the sale of $200 million of common stock at about $70 per share (this follows $39.6 million of repurchases in the third quarter of 2011 at average cost basis of $218). He is adding in 2.857 million shares to his model to reflect the stock sale, diluting current shareholders by 5.3 percent.
Given stalling domestic net subscribers growth and lowered expectations for the whole of fiscal 2012, we are lowering 2012 net additions to 5.7 million from 6.1 million, increasing content costs to $2.0 billion from $1.9 billion, and increasing marketing to 14.8 percent of revenue from 11.6 percent, said Squali.
The brokerage raised its fourth quarter EPS for Netflix to $0.60 from $0.59 and its 2011 estimate to $4.13 from $4.12. The brokerage lowered its 2012 per share estimate to a loss of $0.66 from a profit of $3.95. The brokerage reduced its 2012 revenue estimate to $3.709 billion from $3.919 billion.
Netflix stock closed Friday's regular trading down 6.78 percent at $63.86 on the NASDAQ Stock Market. The stock touched a new 52-week low of $62.90 on Friday.
© Copyright IBTimes 2023. All rights reserved.