New Instagram Update Lets You Follow Hashtags, Here's How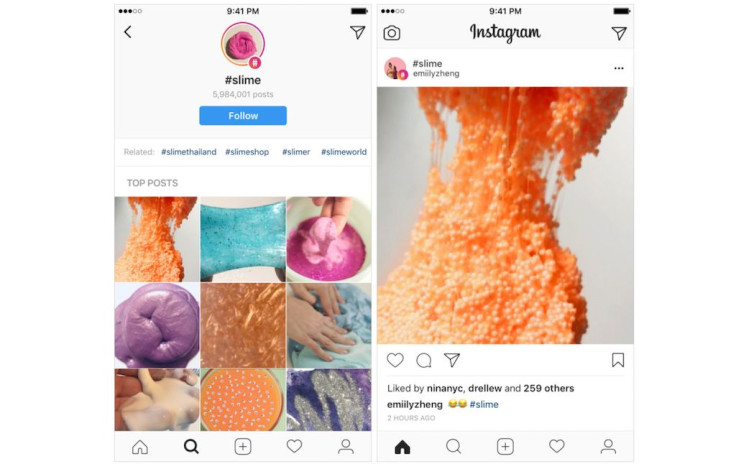 Instagram has added a new feature that allows users to follow hashtags like following users. After updating, the new Instagram feature is available to all user starting today on Android and iOS devices.
"Today we're introducing the ability to follow hashtags, giving you new ways to discover photos, videos and people on Instagram. Now it's even easier to stay connected with the interests, hobbies, passions and communities you care about," Instagram said on its blog post.
So, how exactly are users able to follow hashtags? Following a hashtag is very similar to following a friend. To start following a hashtag, users can search for a topic they're interested in or just tap on a hashtag on any post. When they do that, they'll start seeing relevant hashtags in their search results alongside related accounts.
When a user finds a hashtag that they're truly interested in, open the hashtag's page and tap on the "Follow" button. Once that's been done, users will start seeing top posts with that hashtag right from their Instagram feed. Users will also start seeing the latest Instagram Stories with the same hashtag on their Stories bar at the top of the feed. Instagram says that it uses an algorithm to select the best related posts based on recency and quality. Like with friends, pages or public figures, users will be able to unfollow hashtags at any time.
"To give you more ways to find hashtags you might like, you can check out the hashtags other people follow in their profiles," Instagram said. "Similar to people you follow, hashtags you follow respect your privacy settings. If you set your account to private, the hashtags you follow will only be visible to your followers."
The development of the new Instagram feature was headed by Matthew Ogle, the same man behind Spotify's Discover Weekly playlist. "Discover Weekly wasn't about teaching an algorithm to understand and then recommend music. We taught an algorithm to look at what the community was already doing with this building block, the playlist, and to take the best of what the community was doing and extend it in a new direction," Ogle told The Verge.
"Hashtags are kind of the same way. You have something that is working organically on the platform, how do we add just enough additional structure so that more people can participate."
Ogle also explained that following hashtags on Instagram can be a bit tricky. Hashtags could have multiple meanings and this is why Instagram is letting users basically "train" how the algorithm works. By liking or leaving a comment on the posts of hashtags they're following, Instagram will learn which posts are most relevant to the user.
Additionally, users can also downvote posts that they don't want to see from hashtags they follow. They can do this by tapping on the menu button in the top right corner of the post, according to TechCrunch. Instagram also said that it will use automated and manual systems to flag down inappropriate posts and block their posters.
© Copyright IBTimes 2023. All rights reserved.