Is A New Minimum Wage Coming? What Biden Said About The Latest Stimulus Bill
When the next stimulus bill passes in Congress, there's a good chance it won't include the $15 minimum wage that President Joe Biden promised during his campaign.
In an interview with CBS News that airs Sunday, Biden said he doesn't believe the provision will be part of the latest stimulus bill since Democrats are expected to use a parliamentary procedure known as budget reconciliation to pass the $1.9 trillion relief package.
"I put it in, but I don't think it's going to survive," Biden told anchor Norah O'Donnell. "My guess is it will not be in [the stimulus bill]."
However, Biden promised to revisit the minimum wage hike by proposing a stand-alone bill to help struggling Americans.
"I'm prepared as the President of the United States on a separate negotiation on minimum wage to work my way up from what it is now," Biden said.
"No one should work 40 hours a week and live below the poverty wage and you're making less than $15 an hour, you're living below the poverty wage."
The federal minimum wage is $7.25. The last time it was raised was in June 2009.
There is expected to be Republican opposition to a minimum-wage hike. Sen. Joni Ernst, R-Iowa, opposes raising the minimum wage, claiming it would hurt small businesses that have already been hurt by the pandemic.
The new negotiations mean the latest stimulus package would include the $1,400 direct payments, $50 billion toward COVID-19 testing, $20 billion for a national Covid vaccination program, $400 per week in unemployment benefits through September, and other aid for government, education, and more.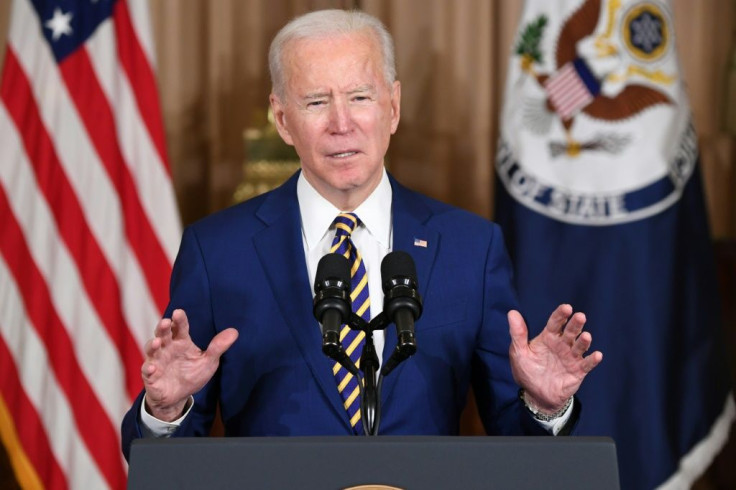 © Copyright IBTimes 2023. All rights reserved.