New NFT art project that allows to mine Bitcoin
This article uses affiliate links, which means if you purchase products through these links, we may earn a commission. Click here to see our
T&C
. For licensing please click
here
.
The understanding of NFTs somewhat changed over time. Today, NFTs are not just funny pics on the Internet - they serve as a tool for verification and digital proof of ownership that opens access to the digital economy. All actions that used to require middlemen services and electronic copies of documents are now transitioning to the virtual world and do not depend on intermediaries anymore. This means the financial revolution is just around the corner. Let's talk about the role of NFTs in the transition to Web 3.0.
Some Facts about NFT
If, in March 2021, NFTs did not receive widespread popularity, then in the second half of 2022, the NFT industry reached $8 billion in trade volume.
Below, you can see some facts about the NFT industry:
In early 2021, the trade volume of NFT was 26 times higher than the total trade volume in 2020.
The number of active NFT buyers grew from 11,000 to 190,000.
Transactions with NFTs grew by 21,5 times.
Famous NFT collections, CryptoPunks, has crossed $1 billion in trade volume. Only 1 of its 10,000 artworks - CryptoPunk #7523 - was sold at Sotheby's for $11,75 million. In February 2022, CryptoPunk #5822 broke the record when it was sold for $23,7 million.
Analysts believe in 2031, NFTs will account for 40% of the collectibles market, evaluated at $440 billion in a year.
Reasons why people buy NFTs:
there's always hype around NFTs;
their prices show growth;
artists can tokenise their artworks, encrypting them in NFTs;
artists-influencers have millions of fans on social networks;
big world brands buy NFTs, creating a trend.
Greedy Machines – Receive Bitcoin Rewards for Holding NFTs
The GMT Token is a project facilitating entry into BTC mining. Recently, it has launched its own NFT project, "The Greedy Machines". The developers implemented a fundamentally new approach to creating an NFT collection and launched an art project with mining machines NFTs backed by computing power. The initial token supply is 1,000 unique collectible miners stored on the Ethereum blockchain.
Users can exchange GMT tokens for NFT and receive real computing power and mining rewards daily.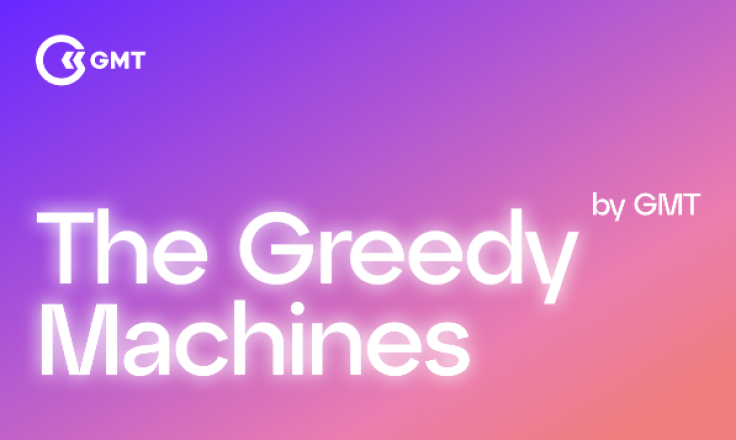 What is NFT Mining Farm?
The Greedy Machines is a concept art game where participants build their virtual mining farms. As mentioned above, NFTs are backed by a certain amount of computing power which allows mining Bitcoin daily and receiving rewards. A user should attach the purchased NFTs to one's account to start building a farm.
Farms include mining cells, mining shelves, immersion baths, containers, data centres, etc. Every user starts from a novice miner with one device and grows to the head of a mining empire, the owner of a mining power plant.
There's also an attractive referral program for those participants who invite new users to the platform. Both participants and invited members receive promo codes for additional bonuses in Bitcoin.
Using a "daily maintenance" button, players can enter and perform service maintenance on equipment. In return, players receive a small bonus to their daily mining rewards.
How Does It Work?
Each miner has a certain amount of processing power, bringing bonuses in BTC straight to the user's wallet. When a platform participant purchases NFT, one receives a portion of computing power measured in TH/s in the following proportions:
S – 4 TH/s
M – 8 TH/s
L – 12 TH/s
XL – 16 TH/s
As the power of their mining equipment increases in the game, players receive "attributes" in their personal accounts indicating how far they have progressed. If a user buys 4 TH/s, he will get a cell with a miner; if one buys 12 TH/s, one will get an immersion bath, etc.
Here is a list of the benefits users receive depending on mining capacities:
mining cell = 1 TH/s
mining shelf = 5 TH/s
immersion bath = 10 TH/s
mini farm = 50 TH/s
farm = 100 THs
immersion farm = 300 TH/s
container = 500 TH/s
S barn = 1,000 TH/s
M barn = 2,000 TH/s
L barn = 3,000 TH/s
XL barn = 4,000 TH/s
data center 1 lvl = 5,000 TH/s
data center 2 lvl = 10,000 TH/s
data center 3 lvl = 20,000 TH/s
mining plant = over 100,000 TH/s
Green Energy
Since the GMT Token team cares about lowering the ecological footprint caused by crypto mining, they decided to contribute to spreading the message about green energy. Therefore, GMT Token has released a limited collection of "green miners" whose proceeds will go directly to organisations involved in spreading sustainable energy worldwide.
Final Thoughts
The Greedy Machines is a concept art game that builds a community of miners, facilitates BTC mining, and develops "green" energy. Those enjoying beautiful visual forms and artworks will definitely appreciate using the platform and GMT marketplace. The benefits users receive from the The Greedy Machines collection include daily Bitcoin rewards for image ownership, unique images, and a part of the gaming infrastructure.
FOLLOW MORE IBT NEWS ON THE BELOW CHANNELS