New Orleans Protest Targets White People: 'Black Power' Activists Blame 'White Supremacy' For Donald Trump Victory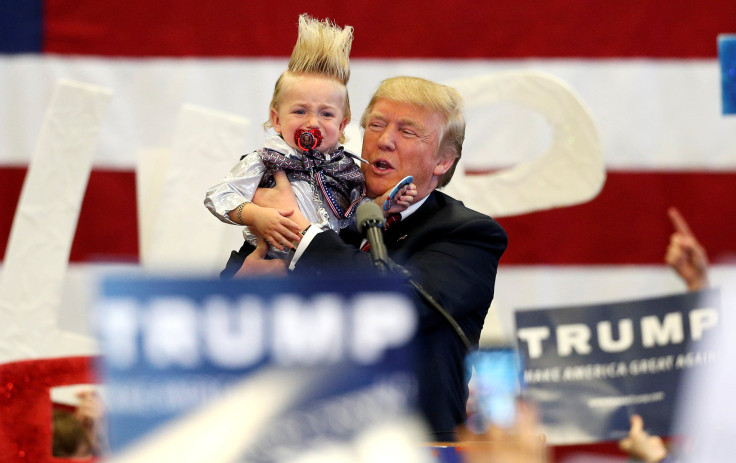 Anti-Donald Trump protesters covered historic buildings in New Orleans with graffiti this week that seemed to blame white people for putting the Republican in the White House. After Trump emerged as the winner of the presidential election Wednesday, New Orleans residents marched through the historic French Quarter to demonstrate against his policies and some protesters left graffiti with messages such as "No KKK" and "Fuck White People" in their wake.
The protesters set an effigy of Trump fire and smashed windows, local media reported. They carried signs that read "No Trump, No KKK, No racist USA" and chanted "Not My President," a message that has become a rallying cry for voters who wanted to see Democrat Hillary Clinton take the White House next.
Crews from the CBS television show "NCIS: New Orleans" helped remove the graffiti from the city's former City Hall, Gallier Hall, Thursday before shooting an episode. The show continues to use the 171-year-old building as New Orlean's City Hall. Protesters also defaced One Shell Square, the tallest building in Louisiana and the first sky-scraper built in New Orleans, and the Hotel Monteleone, a luxury hotel known for its carousel bar.
Protesters spray-painted "Black Power" and "Dismantle White Supremacy" on the Robert E. Lee monument at Lee Circle. New Orleans is a majority-black city, with 58.5 percent of its residents identifying as African-American. White voters backed Trump by 58 percent and Clinton by 37 percent. About 74 percent of non-white voters voted for Clinton, and 21 percent backed Trump.
"I am a gay Latina woman," Monica Jean, a New Orleans resident and Georgia native who declined to give her last name, told NOLA.com. "Last night, I found out that most of my country hates me."
Niccoli Stryker, 11, of New Orleans, who attended the protest with his mother, Melissa Stryker, held a sign reading "Don't deport my friends."
Roughly 79 percent of Trump voters said illegal immigration was a "very big" problem, while only 20 percent of Clinton voters said the same, according to a Pew Research Center poll. About 72 percent of Trump supporters called themselves "traditional" while only 31 percent of Clinton voters said the same. The national online survey polled 3,788 registered voters in the two weeks leading up to the presidential election through the morning of Nov. 8.
© Copyright IBTimes 2023. All rights reserved.