New York Coronavirus Deaths To Drop Following April 9 Peak, New Cases Also Reducing
KEY POINTS
New York State said hospitalizations Wednesday were only 1% more than the number Tuesday
On the other hand, the number of daily deaths continue to rise
"You're not out of the woods," said Gov. Andrew Cuomo
New York State, "The Big Epicenter," is cheering the news the growth rate in the number of COVID-19 patients in its overcrowded hospitals is almost flat. But its health experts are also trying to figure out why the number of deaths in the state stubbornly continues to rise.
The continuing climb in the death toll is especially worrying since a widely referred to statistical model predicts the state's peak daily death toll for April 9 at 780. What's frightening is the death toll from Tuesday to Wednesday jumped to 799 deaths, another one-day high, bringing the state's death count to 7,067. This actual death toll was higher than the peak death number predicted by the revised statistical model from the Institute for Health Metrics and Evaluation (IHME) at the University of Washington School of Medicine.
Whether the actual count for the days is lower or higher than the 799 on Thursday, health experts still refer to this as the peak infection beyond which is a steadily declining death toll. IHME projections showed 743 deaths on April 11; 639 on April 13; 386 on April 17 and only seven by the end of the month.
Confirmed case count is growing at the slowest pace yet. From Wednesday to Thursday, the number of confirmed COVID-19 cases grew a scant 1%, or by 200 cases, to 18,279. Medical experts said the continuation of this trend will see the number of people in state hospitals soon starting to decrease. This will be clear proof the COVID-19 pandemic that ravaged the city for more than a month has indeed passed its apex.
Data over the past few weeks first suggested the beginning of the end to New York's ordeal. The numbers of COVID-19 patients hospitalized slowed down appreciably, or from over 20% daily at its height to single-digit percent increases this week.
New York reported its lowest daily jump in hospitalizations Thursday, said Gov. Andrew Cuomo. Despite this morale-boosting bit of news, Cuomo warned the state is just on its "first wave."
"You're not out of the woods," said Cuomo. "We've done some great things and we've saved lives because we've followed these policies (like staying at home). The moment we stop following these policies," cases will soar and hospitals will be overwhelmed again, he said.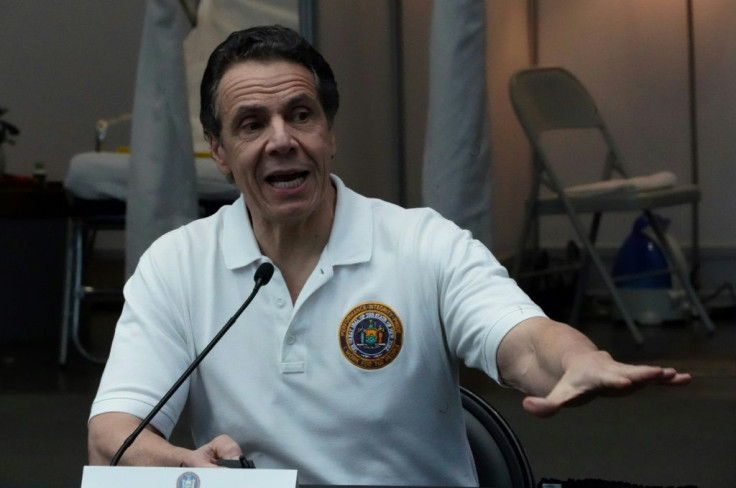 Cuomo noted New York will probably have enough hospital beds and ventilators to treat COVID-19 patients if current trends hold. On the other hand, he also warned the state's resources will be unable to cope with a moderate pandemic.
"Everybody is assuming, well, once we get through this, we're done," Cuomo noted. "I wouldn't be so quick to assume that. This virus has been ahead of us from day one.
He said more testing sites will be opened in predominantly black and Latino neighborhoods since the state's black and Hispanic communities were the hardest hit by the novel coronavirus.
New York's latest COVID-19 statistics:
* Confirmed cases statewide: 159,937 (up 10,621 from 149,316), or a 7% increase.
* People hospitalized: 18,279 statewide (up 200 from 18,079 Wednesday), a 1% increase.
* People in intensive care: 4,925 (up 84 from 4,841 on Wednesday), a 2% increase.
* New York City: 87,028 cases compared to 81,803 Wednesday.
© Copyright IBTimes 2023. All rights reserved.