From New York Fashion Week To Paris, Ralph Rucci Rules The Runway
Where does one begin when talking about Ralph Rucci, arguably one the most ingenius fashion designers in all of American history? The couturier and designer of his label, Chado Ralph Rucci, which he relaunched in 1994 with a name taken from the meticulously detailed and ritualized Japanese tea ceremony, Rucci has a long list of fashion credits.
Rucci's first job in a career that has spanned over three decades was in the house of Halston, where he trained under a former Balenciaga protégé before moving on to host his first show in New York in 1981. Twenty years later, after decades of producing exquisite pieces that run as high as six figures for the loyal clientele of his New York-operated fashion house, the nuanced perfectionist was honored with a plaque on New York City's Seventh Avenue "Fashion Walk of Fame." Since then, Rucci has been honored with a 2007 retrospective exhibit at the Museum at FIT titled "Ralph Rucci: The Art of Weightlessness" and has been the subject of two documentaries, 2008's "Ralph Rucci: A Designer and His House" and 2012's "A Quiet American: Ralph Rucci & Paris."
In addition, the 56-year-old Philadelphia native is a revered painter, most recently showcased in an exhibit celebrating his work at San Francisco's Serge Sorokko Gallery. In 2002, in perhaps his greatest achievement, Rucci became the second American designer ever invited to show haute couture during Paris Fashion Week by the esteemed French Chambre Syndicale de la Haute Couture; the other was Main Rousseau Bocher in the 1930s.
IBTimes caught up with Rucci backstage before his Chado Ralph Rucci show at New York Fashion Week on Sunday. He spoke about his fall 2013 designs, when he plans to return to Paris, rumors of bankruptcy last year and the future of his ultra-luxury brand.
IBTimes: You've been reminiscing a lot lately about past fall seasons, what's in store today?
Rucci: "Well, there's a collective unconscious when you work on the collections. You don't go into a collection after all these years with a singular thought. It's a vortex and everything that's behind you that you've worked with comes forward. You just perfect it, you perfect it, you perfect it. And within that, there's a whole new message with the clothes. There's a new sensuality. As I've been saying now, looking from the past into the present, because you have to have this cognisance of what's possible without it looking futuristic. You know, it's too easy to be futuristic. So you have to pull these elements of grace and poise and chic but make it look like it's in the future."
IBTimes: From pre-fall, you said it's supposed to be a shadow of fall with much more color. What's the palate like?
Rucci: "There's a lot of color and there's a primary for the foundation underneath the whole collection of violet because it's a color of great intensity. We agonized over the correct violet. All of the mills had the same exact swatch so we would have the same violet. It's beautiful."
IBTimes: I know that you're a painter yourself, and Cy [Twombly] is one of your muses. I read that one of your inspirations was a portrait by Diego Velasquez. Is that going to be incorporated at all?
Rucci: "You mean, Francis Bacon. Francis Bacon did a series of paintings based on Pope Innocent X, a Velasquez painting. There is a dress tonight, what it is is a black gazaar ball gown and then underneath it, it's veiled. We screened an image of Pope Innocent but what I did was, I gold leafed on top of it so it's very muted. What you'll notice is, the bodice is embroidered to look like structures of DNA."
IBTimes: And you're working with some new fabrics this season, right?
Rucci: "New fabrics. There's double-bonded cashmere and single-bonded cashmere."
IBTimes: What attracted you to these fabrics?
Rucci: "We've been using cashmere for so many years and clients collect it and it's a new way to introduce, I think, usage and a younger head into the luxury of cashmere. Because if a young lady here hears a cashmere has rubber in it, there's a whole different turn-on. There's also a great deal of play with proportion. There are tunics over trousers with shorter jackets or longer jackets. And many of the tunics are lace and the lace is either metallic or latex covered or regular thin lace. I thought it would just be a very interesting play of texture and transparency. Or they could wear the lace tunic as a dress or they could wear it as a tunic."
IBTimes: Of course not this season, but do you still plan to create a menswear line sometime in the future?
Rucci: "I think not in the immediate future, we have other things…"
IBTimes: Like Paris? When do you plan to go back?
Rucci: "We're going back to Paris. I would say, in about a year and a half we'll be showing haute couture."
IBTimes: And you recently worked with Holly Hunt for your first furniture collection…
Rucci: "Yes, it was introduced, it's in Architectural Digest this month, I don't know if you saw it."
IBTimes: I did.
Rucci: "Holly's having an introductory party in March in New York City."
IBTimes: How can we see that your design philosophy in the furniture?
Rucci: "It's the same exact aesthetic. What I did, though, I brought forth in the furniture collection things that I've wanted on my own for many years. So when Holly first approached me, I said, 'I don't know what I'm going to do.' And then I had some quiet time and I just said, 'Ok I'm just going to sketch and think of things that I want.' I went in my files and I found some different images of Chin Huas and French things and we mixed them."
IBTimes: Taking it back a little bit, you trained under Halston. What do you think was the most important lesson you learned there?
Rucci: "Well, I observed under Halston, I trained in the workroom. I trained in the workroom under Mr. Salvatore Cardello."
IBTimes: Sewing and cutting dresses on the floor?
Rucci: "Yes, there was no floor. It was quite luxurious at the Olympic Tower. And the man that ran Halston's workroom, Mr. Cardello, he trained as a young man at Balenciaga. So the rigor was extraordinary. And what I got out of that experience was, I think, most importantly a simplification and pare down effect on fashion and how it revolutionized fashion. And also how to apply the bias cut, which doesn't work in ready-to-wear."
IBTimes: Of course I know you're not the biggest fan of licensing…
Rucci: "Where did you get that idea? Of course we are! We have a license for fur, the carpets…"
IBTimes: I meant more like licensing in terms of mass market...
Rucci: "Oh, no no. please don't misquote that. It's not that I'm not a fan. I know what I can and can't do. I do what I feel like I could do best. But I don't have any snob appeal against people who do that. I'm not judgmental."
IBTimes: But Halston's empire nearly crumbled after he set up a licensing arrangement with JCPenney; it didn't work.
Rucci: "Exactly."
IBTimes: Have you thought about that as you established your own brand and avoided licensing?
Rucci. "You have to know what you can and cannot do."
IBTimes: Last year you went through some difficult times financially. There was talk of bankruptcy and you had to cancel your show. How have you emerged from that?
Rucci: "We have a marvelous CEO this year that has helped turned the company around, Jeffrey Aronsson, and his visions have been extraordinary. And it feels like we're 10 years away from last year. And I'm not embarrassed to talk about it because they were very dark moments. And in a way, I was never fearful it was going to end because the universe wouldn't let that happen. But Jeffrey happened, like it was supposed to."
IBTimes: How is he guiding the future of the company?
Rucci: "Ask him! Where is he? He was just here! Well, he does it with humanitarianism. He is an honest honorable man with great business savvy and he does it from his heart. He has more to do with that than fashion and that's why I adore him. It's a marriage that [claps his hands together]."
IBTimes: How do you stay inspired after what 30, how many years?
Rucci: "31 years! It's the obsessiveness. It's in my blood. I mean, it's that simple. And also I diversify with painting. I just had a new show of paintings on December 15 in San Francisco, so I think that helps a great deal."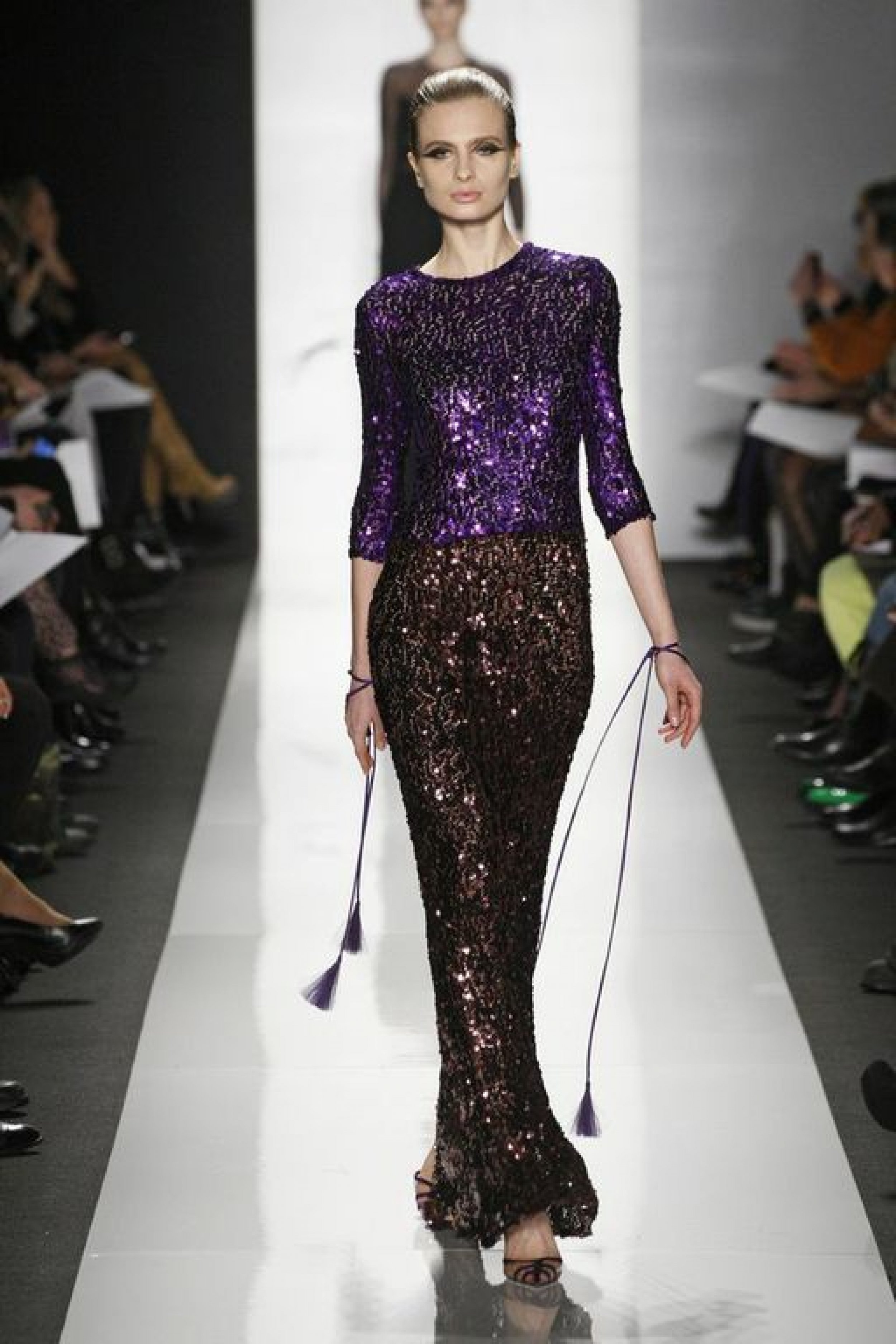 FOR FREE to continue reading
✔️ Unlock the full content of International Business Times UK for free
offer available for a limited time only
✔️ Easily manage your Newsletters subscriptions and save your favourite articles
✔️ No payment method required
Already have an account? Log in
© Copyright IBTimes 2023. All rights reserved.