New York Post Lawsuit: So-Called Boston Bag Men Slap Rupert Murdoch's 'Unethical' Tabloid With Defamation Suit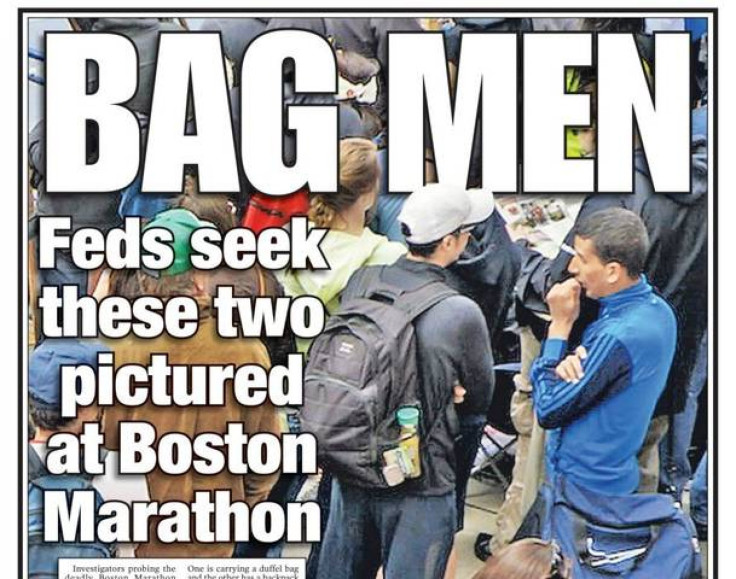 Rupert Murdoch is going to have to bag himself a couple of damn good lawyers.
The two Boston Marathon spectators whose images were pointlessly plastered on the cover of the New York Post have filed a defamation lawsuit against the tabloid. In the wake of the bombings that tore through the marathon on April 15, the Post ran a front-page photo of 16-year-old Salaheddin Barhoum and 24-year-old Yassine Zaimi, whom the paper identified as "Bag Men," an entendre referring to their backpacks. The subhead read: "Feds seek these two pictured at Boston Marathon."
The April 18 cover caused outrage in the journalism community, with many reporters calling it irresponsible and unethical. Barhoum and Zaimi, both legal U.S. residents who emigrated from Morocco, said they feared for their lives and were subject to considerable ridicule and scorn.
At the time, Col Allan, the Post's editor-in-chief, defended the paper's reporting, pointing out that the Post never identified the young men as suspects: "The image was emailed to law enforcement agencies yesterday afternoon seeking information about these men, as our story reported."
But critics, including this reporter, countered that the Post's editorial team had no justification for identifying the pair as "Bag Men," particularly given the headline's implication. Less than a day after the photo ran, the FBI released pictures of the actual suspects.
The lawsuit -- filed Wednesday in Suffolk County, Mass., Superior Court, according to the Boston Globe -- said the photos made it seem as though the young men were suspects. Lawyers for the duo are accusing the Post of libel, negligent infliction of emotional distress and invasion of privacy. The Globe reports that they are seeking unspecified monetary compensation and damages.
For the New York Post, the lawsuit couldn't have come at a worse time. The struggling tabloid is owned by NYP Holdings Inc., a unit of News Corp. (NASDAQ:NWSA), which is in the process of spinning off its publishing business from its more profitable entertainment side. When the separation is complete later this summer, the money-losing Post will no longer have the luxury of a cash cushion paid for by the likes of Fox News and 20th Century Fox.
Amazingly, the original article with the friends' photo (with the added feature of Photoshopped bullseyes around their heads) is still accessible on the New York Post website -- at least as of Thursday morning. An update states simply that the men "probed" in the bombings had been "cleared by investigators." Probed by whom, Murdoch?
Got a news tip? Send me an email. Follow me on Twitter: @christopherzara
© Copyright IBTimes 2023. All rights reserved.