New York Red Bulls 1-0 Arsenal: Wright-Phillips Goal Helps Henry Taste Victory On Reunion With Former Club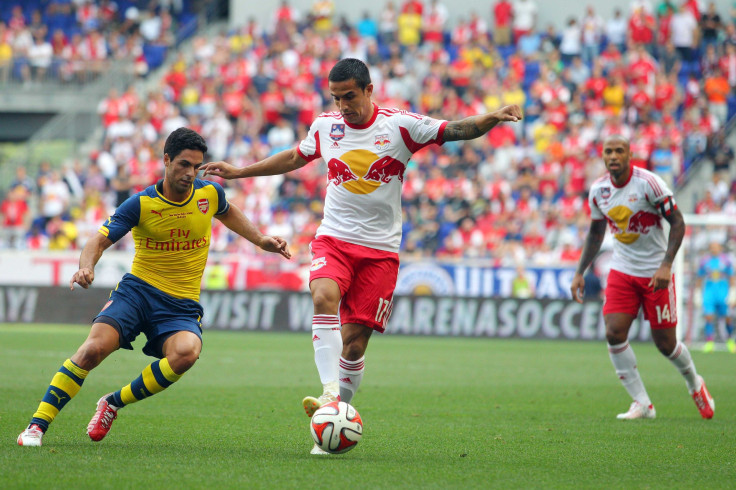 HARRISON, NJ -- After 25 years, Arsenal returned to the United States. Thierry Henry was reunited with the club closest to his heart, but it was another member of the New York Red Bulls with connections to the English Premier League giants who produced the decisive moment.
Bradley Wright-Phillips, son of Arsenal legend Ian Wright -- the man who Henry replaced at Arsenal in the late 1990s -- struck in the 32nd minute for the only goal of the inaugural New York Cup. It may have been just the second match of Arsenal's preseason, which certainly showed, but it was still a hugely credible win for the Red Bulls over the FA Cup holders. In contrast to their opponents, the Red Bulls are right in the middle of their Major League Soccer season and have their eyes on a technically far more important fixture against Real Salt Lake next Wednesday. Yet on Saturday, not only did they have the sharper fitness, but they had their minds fully focused on proving that they could match up with one of Europe's elite clubs.
"It's one of those things that I'm sure if we lose, we were supposed to because it's Arsenal," Red Bulls coach Mike Petke said afterward. "If we won, [people would say] I'm sure they're out of shape and it's leading in [to the season]. At the end of the day, this really means nothing more than a good victory, a good thing for the supporters because it's not three points, it doesn't mean anything in our standings. For me, it's a positive for the players. Now it's onto Salt Lake City on Wednesday."
Having long resisted the allure of a trip across the Atlantic, Arsenal manager Arsene Wenger had relented for a one-game excursion to the Big Apple. And his comments afterward suggested that it may not be as long as a quarter of a century's time around before they return.
"It was a great experience," Wenger said. "Everyone enjoyed it. Nobody wants to go home. It was a short trip but a very exciting trip because New York is a special city. What was most special is how popular football is now [In the U.S.]."
The fact that the man voted the club's greatest player of all time was in opposition only made the occasion all the more special. Henry received the loudest cheers of the night from a sellout crowd of 25,219 at the Red Bull Arena, which for the most part felt more like the Emirates Stadium, both when his name was announced ahead of kick off and when he bid his farewell early in the second half.
"It was great," Henry said. "I think the fans obviously enjoyed it. Like I said before, it wasn't the most important thing to win the game but, at the end of the day, we won it. Like I said before the game and to the guys in the dressing room, let's give [Arsenal] a good game. They haven't come [to the U.S.] in 25 years. At least if they know they're playing a MLS team that it can be a good game, you know, and that's hopefully what we did."
Such is the affection held for Henry from those decked out in the red of Arsenal that he surely would have received a large cheer too had he converted a chance inside the first five minutes. It would have been a trademark strike as he cut in from the inside left channel onto his favored right foot, but, unlike he did so often for Arsenal in his eight years with them, on this occasion his effort was turned wide by goalkeeper Wojciech Szczesny.
Still, Henry was to have a telling influence on the game. Just past the half-hour mark, it was the 36-year-old's corner to the back post which was headed down into the heart of the six-yard box by towering defender Ibrahim Sekagya. There Wright-Phillips showed the lightning-fast reactions that made his father so lethal and have enabled Bradley to score a league-leading 17 goals in MLS this season.
The Red Bulls continued to hold their own against an Arsenal side that was without many of its World Cup players. In the absence of Olivier Giroud, new signing Alexis Sanchez and injured duo Yaya Sanogo and Theo Walcott, Arsenal played the first half without a recognized striker as Tomas Rosicky roamed around as a false nine. Also trying to provide support up front was 17-year-old Gedion Zelalem, another German-born player with American connections, who U.S. coach Jurgen Klinsmann would love to be able to call upon in the future.
But Arsenal continued to be frustrated. Before the interval, Red Bulls goalkeeper Luis Robles saved spectacularly a shot from Jack Wilshere, just as the England midfielder looked set to provide a near-repeat of the brilliant passing goal he finished against Norwich City last season.
Half time saw an expected rash of substitutions, with Arsenal making seven changes. While the hosts only made three at the break, a constant stream followed from both teams during the second period, largely robbing the friendly of any rhythm. Still, the thousands of Arsenal fans in attendance were particularly pleased to see one of the half-time arrivals, Abou Diaby. After effectively years of his career lost to injury, the French midfielder is on the comeback trail once more. He thought he had scored, too, before having his celebrations halted by an offside flag.
Despite having an orthodox striker in the second half in the form of 18-year-old Chuba Akpom, Arsenal couldn't find a way back into the game. And when Akpom failed to take advantage of a one-on-one chance late on the game was up and Arsenal got set to return home, where they will begin the Emirates Cup in a week's time for further conditioning ahead of the start of a Premier League season that the bulk of the fans inside the Red Bull Arena on Saturday hope will end an 11-year-wait for a championship.
© Copyright IBTimes 2023. All rights reserved.