New York Sen. Chuck Schumer Quick Front-Runner For Next Democratic Leader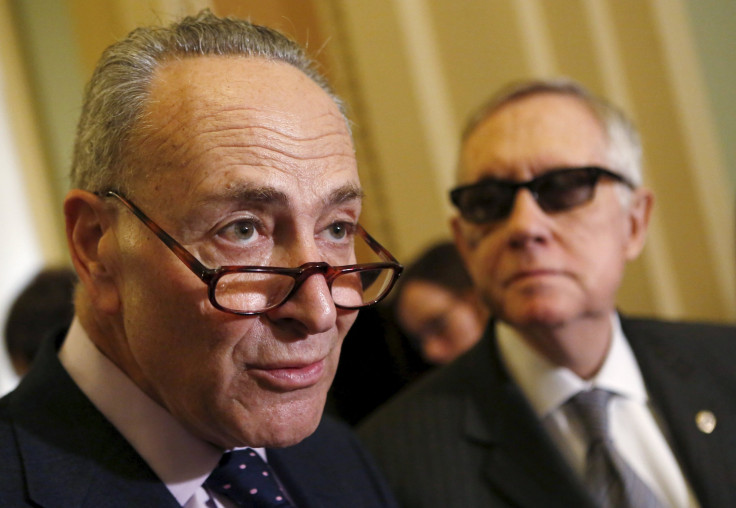 WASHINGTON -- New York Sen. Chuck Schumer has quickly moved into the position of likely successor to Nevada Sen. Harry Reid as leader of the Senate Democrats. Reid, who announced retirement plans Friday morning, quickly endorsed Schumer to follow in his footsteps.
"I thank Harry Reid for his friendship, counsel and steadfast leadership of our caucus over the last 10 years, and I look forward to continuing to work right alongside him for the remainder of this Congress," Schumer said in a statement. "I am honored and humbled to have the support of so many of my colleagues and look forward to our Senate Democratic Caucus continuing to fight for the middle class."
Reid gave a full endorsement of Schumer, telling the Washington Post that he didn't anticipate anyone would provide a serious challenge. "I think Schumer should be able to succeed me," Reid said. Schumer has been positioning himself to move into Reid's job for years.
Schumer's biggest competition for the job -- which won't actually open until January 2017 and will be filled by a popular vote of the caucus -- was thought to be Illinois Sen. Dick Durbin. But Durbin made clear by Friday afternoon that he won't try to challenge Schumer.
"Sen. Durbin told Sen. Schumer late last night that he wasn't running for leader, and that Schumer has his support," a Durbin spokesman said. "Durbin intends to run again for whip and has Sen. Reid's support. He's been speaking with senators this morning."
Schumer also picked up the endorsement of other Democrats in his caucus, including West Virginia Sen. Joe Manchin, who could have posed a challenge from the more moderate wing of the party.
"He is a leader who values loyalty and builds friendships with all of his colleagues. He has proven that he can work with moderate and progressive members of the Democratic caucus, and importantly, with Republican members from across the aisle," Manchin said of Schumer in a statement. "I have complete confidence that Chuck Schumer will be a tremendous leader of our party, and he has my full support."
The only other top contender whose name has been floated as potential challenger to Schumer is Washington Sen. Patty Murray. The longest-serving member of those who have been considered, Murray was able to broker the budget resolution with Rep. Paul Ryan, R-Wis., that avoided a government shutdown for two years.
© Copyright IBTimes 2023. All rights reserved.